The country recorded accumulated rainfall of almost 300 millimeters during the last 24 hours.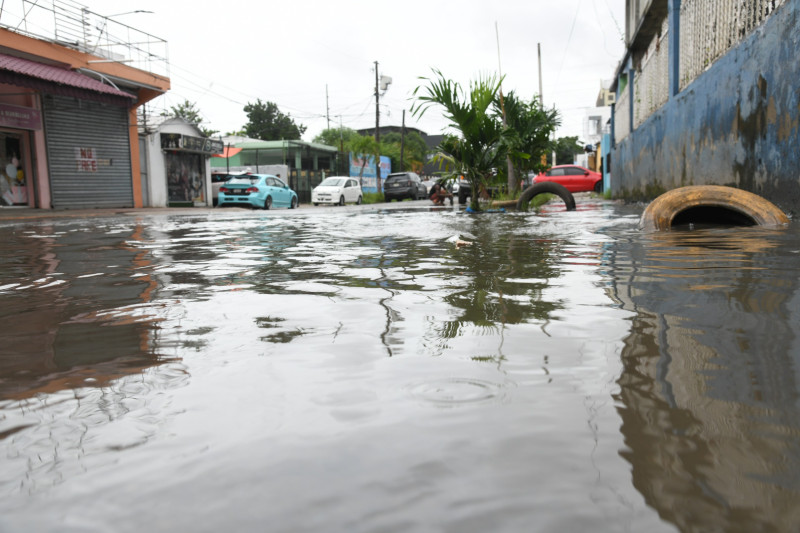 Santo Domingo, DR—National Meteorological Office (Onamet) reported that during the last 24 hours, the number of millimeters of rain that has fallen due to the tropical disturbance has reached almost 300 in several localities of the national territory.
According to the meteorological agency, San Cristobal province registered the highest amount of downpours in the last 24 hours, with 284 millimeters of rainfall.
In Barahona, there was an accumulation of 240.5 mm of rain, while in San Jose de Ocoa, 221.5 mm of rain was recorded. Also, in Duarte province, there was an accumulated 192.2 mm.
Other distinctions that recorded a large amount of water are Azua with 189.2 mm, Samana with 174.1 mm, La Vega with 160 mm, Sanchez Ramirez with 158.4 mm, San Juan with 153.4 mm, and Maria Trinidad Sanchez with 147.1 mm.
Onamet indicated that in other localities of some provinces, accumulated rainfall has been between 20 and 150 millimeters.
The entity indicated that although the deep trough, located in the southeastern part of the Bahamas, is not expected to become a tropical cyclone, "precipitation activity in the form of heavy downpours with thunderstorms and wind gusts will continue to occur over the country."
Currently, the weather agency said that heavy downpours are occurring over Pedernales, Barahona, Azua, Peravia, San Cristóbal, San José de Ocoa, Monseñor Nouel, Sánchez Ramírez, Duarte, Samaná, María Trinidad Sánchez, Hato Mayor, El Seibo, and localities of Greater Santo Domingo.
Also, some showers have started over La Altagracia, La Romana, and San Pedro de Macoris and are expected to intensify during the day and spread over localities of Hermanas Mirabal, Puerto Plata, Espaillat, among other provinces.
Onamet reported that heavy rainfall is forecast, mainly over the Caribbean coast, the southeast, and the northeast, during the next 48 hours.