Barrio Blanco: heart, hope, and generosity raise a community and transform lives
By Renn Loren
There is real truth to the axiom that in helping others, we help ourselves most. 
It is also said that it takes a village to raise a child. But sometimes it can take a person to raise a village, and though Providing Opportunities founder Ron Zauner would never seek credit, his efforts have had a lot to do with the improvement of the human condition in the community of Barrio Blanco in Cabarete.
Zauner's (au as pronounced in sauna) story and that of the Dominican barrio are an entwined tale of the transformative powers of giving and the magic of human generosity. In a world too riddled with negativity, divide, greed, hatred, and darkness Barrio Blanco shines as a perhaps tiny but indomitable light against the windstorms of human indifference, hopelessness, and futility.  
Approximately 360 people live in Barrio Blanco, Cabarete, in 120 dwellings called "Habitaciones" 60% are Dominican, 40% are of Haitian ancestry. The barrio is 2 1/2 acres in size and is surrounded on three sides by a canal. There is one road in. Cabarete is 20 miles from Puerto Plata airport, and on the central North Coast.
Nestled between multimillion-dollar hotels, condominium developments, and estates, Barrio Blanco was a squalid collection of ramshackle tin roof hovels built of discarded plywood, plastics, and other scraps of various refuse. The community has seen a lot of improvement in the past eight years, from 2011 to 2019.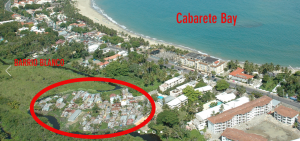 The area was founded around 1988 as a squatters' camp on national land. It is named after Jose Blanco, the first squatter. For years the authorities chased the people out but finally gave up. They had nowhere else to go. The land was all lagoon wetlands, and people brought in dirt—often in 5-gallon pails—to raise the terrain above swamp waters to create dry living areas.
In 1997, Eugene, Oregon resident Ron Zauner went to the Dominican Republic for a windsurfing vacation and stayed at the then-new Windchime Condos in Cabarete. One night after stepping out of the penthouse jacuzzi, he happened to look behind the condos and saw Barrio Blanco, a community of squatters as poor as any on earth.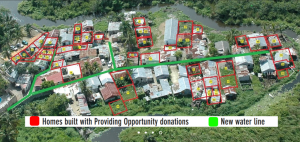 In his words: "I looked over the back railing from my room, and I hadn't ever seen poverty like this before. It was like something you'd see in National Geographic magazine."
The next day he took off for the barrio with his camera to explore.
He was stunned to find residents living in such inhumane conditions. Four little girls greeted Zauner as he wandered in and let him take their picture. Then they insisted he go meet their Abuela (grandmother). 
Walking around in such poverty was a whole new experience for Zauner. He wondered if he should have been more uncomfortable, but for some reason, he wasn't.
He met Abuela Regina Burgos, who was a year older than his 47 years. She was friendly but spoke only Spanish. For Zauner, that meant remembering what little he could from his high school Spanish classes. 
Abuela lived in a two-sided house with a slanted roof, all made of rusted scrap metal.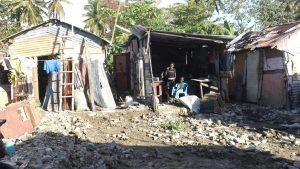 "Everything she owned was on those two walls," recounts Zauner, now a retired businessman who owned and operated his own truck brokerage business for 27 years in Eugene. "There was a refrigerator, but it hadn't worked in years." 
He came to find that there were only six bathrooms in the village of over 300 residents. The conditions were awful, his dog lived better. All roofs leaked. Zauner saw infants sleeping on soaked, rotted mattresses on the dirt. Their parents had nothing; they had nothing.
The existing homes were made of discarded scraps of wood, tin, and plastic, and the looming threat of eviction was ever-present because they were squatters.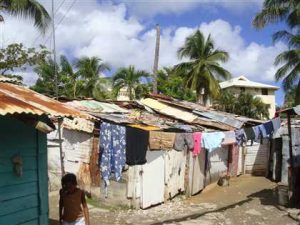 The afternoon before leaving Cabarete, he had some vacation money left and stopped by and gave it to Abuela Regina. Though he had no idea at the time, that would be the beginning of a decades-long odyssey.
After that first visit, Zauner returned to Cabarete every two years or so with friends to windsurf. He always made a point to stop by Barrio Blanco to say, "Hi!" and take a few photos. 
"Everyone was so welcoming," Zauner said. "But I began to see just how difficult their lives really were. Cabarete is really kind of a lagoon — it has a really high water table," he said. "You can actually see a water line inside the houses, and they use blocks inside their homes to hop from one place to another when it's wet."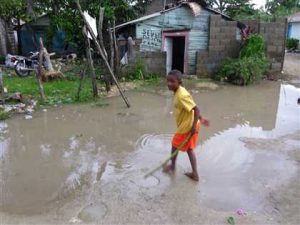 *Zauner noticed that most people in the area had no bathrooms, and there were no septic systems. "Most people used 5-gallon buckets and then dumped them," he said. "They also use buckets for bathing. Their floors are dirt, and their roofs are full of holes."
But when he asked how he could help them, it was the flooding they mentioned as their chief problem. At one point, the government had taken a backhoe and created a ditch around the barrio, both to channel runoff and to prevent the residential area from growing larger.*
Solutions and ideas began forming in Zauner's mind. 
No golfer, after retiring at age 60, Zauner spent 8 months on the edge of his Oregon hometown flying and crashing remote control electric planes. One evening he came home and asked his wife, Margo, what she wanted to do with the rest of their lives? She responded that she would like to teach English as a second language somewhere far away. Zauner then told her that he had often thought of the people in Barrio Blanco and how they were living, and he wanted to help them—something Zauner believed he could do.
The couple flew down the next month. That was in October 2010, and the beginning of an incredible journey for them both.
Their two goals meshed when Margo Zauner found an ESL opportunity volunteering for the DREAM Project, and the couple began planning their new careers. With the help of a local attorney, Ron Zauner formed the nonprofit Providing Opportunity for Self Improvement, Cabarete, Dominican Republic.*
The first major project began in February. POSI built a 3-foot-high cinder block foundation with a house on top of it to keep it above the floodwaters. They used cinder block walls and corrugated Aluzinc metal roofs that don't rust. The smallest house was about 350 square feet, the largest maybe 600 square feet. They were roughly the same size as the houses the people had initially, but they had plumbing — toilet, shower and kitchen sink — bedrooms and a "sala" or living room.
Eugene architect Ken Nagao helped with the plans. By making the houses elevated, full individual septic systems were created using 2 sealed tanks, rounded stones, and perforated pipe. The systems are superior to any residence in Cabarete. The homes cost about $11 per square foot, or from about $3,500 to about $6,000, Zauner explained.
In the beginning, he paid most of the expenses himself, using savings he amassed operating his truck brokerage. "I arranged transport for fresh fruits and vegetables mainly from California to Eastern Canada," he said. "In a way, I guess the building project was kind of the same, only he was arranging for houses instead of produce."
"The whole project is completely open and direct — people who donate to a house will be able to see pictures of that house going up, and every dollar donated will be used for the houses," Zauner said. "I want everyone to see exactly what is happening with their donation, from breaking ground to building to finishing to families moving in. I'm not getting one penny from any of this — it's all going into the houses."
Part of the project borrows a bit from Habitat for Humanity's model because the residents of the barrio provide all the construction at no cost to help themselves and each other. Who gets a house — and when — is determined by a neighborhood association made up of barrio residents.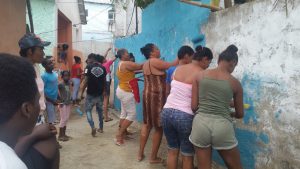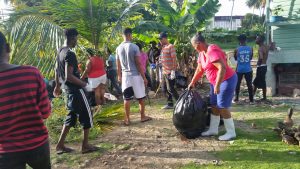 Eugene residents Rick and Betsy Bronson signed on to help sponsor one of Providing Opportunity for Self Improvement's first houses.
"I've been to Third World countries a lot in my work, and I've seen the huge disparities in income and the poverty in many countries," Rick Bronson said. "But I think Ron (Zauner) can pull this off — he's been involved with the government there, and he's made all the right connections. I feel confident that we're going to see good results from this project." Eight years later, this has proven to be the case.
In essence, Providing Opportunity brings resources and organization, and the barrio residents provide the labor.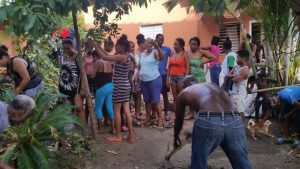 From a Register-Guard article titled "Homes from the Heart" by Randi Bjornstad, POSI received around a dozen email contacts, and it was Zauner's initial email responses that encouraged the donations that would build the first houses.
Project 1 was completed in 2012:
In 2012 Ron and the community built 18 new homes, a new school-clinic-community center, and a new water distribution system. Project 1 was completed with an average of 15 and 37 workers working daily. In addition to Ron's family's contributions, US $168,000 was raised and spent – gathered from people who donated to Providing Opportunity. One-hundred percent of this money was spent on the buildings.
Zauner had no idea that his retirement would bring such a sense of fulfillment. He explains: "To see so many of these residents live better, and, to see their spirit rise up as they make use of the opportunities POSI https://www.providingopportunity.org/ provides, makes my heart feel so full. To see their dreams grow….from a dry mattress….to now, a college graduate and professional."
Raquel Gomez, mother of 3 has been an excellent scholarship student and will be graduating as an ACCOUNTANT on November 1. We are going to HONOR her. The residents know her well. She is Proof that applying herself to her studies leads to a better life. Much better. Zauner has several things he's working on to celebrate her success, and, everyone can tell you the barrio is Proud of her.
Barrio Blanco today is a place of Hope and Pride. You can see this on display at the entrance where the residents painted "Orgullo Barrio Blanco"…Pride Barrio Blanco.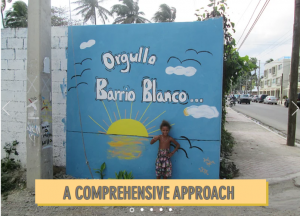 At age 60, Zauner asked the inevitable, "What is MY life about?" question everyone faces at some point—or even at many points—in their lives. He wondered what the consequences were for his having lived. What had Zauner himself done? What value had he brought? Was any part of the world better because he had lived? All the usual suspects.
He then imagined laying in a hospital bed immobile, a doctor comes in and tells him he has 2 days to live, then wishes him a nice day and leaves the shocked patient staring at his toes. That's when he asked himself about the value of his life.
As Zauner relates: "Before my efforts in the barrio, I didn't have an answer. Now I do.
Gracias Barrio Blanco."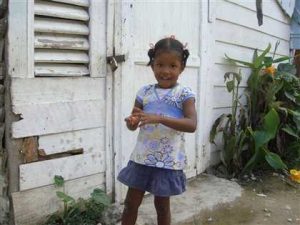 You, too, can join the cause and directly make a massive difference in someone's life through Providing Opportunity for Self Improvement.
If you have ever really wanted to reach out and help someone but didn't know how – or if you have simply felt overwhelmed by the immensity of it all, this is your chance to have a direct hands-on impact on someone's life.
Providing Opportunity has been a registered 501(c)3 charitable corporation in Oregon since 2012, which makes (US) donations tax-deductible.  
Contact information
Providing Opportunity for Self Improvement, Cabarete, Dominican Republic
Contact Ron Zauner POSI https://www.providingopportunity.org/ 
Telephone: 541-844-9745
Email: [email protected]
Online: ProvidingOpportunity.blogspot.com
Donations: Providing Opportunity for Self Improvement, 85017 Willamette St., Eugene, OR 97405
At the time of the founding of POSI, the percentage of people living below the poverty level in the DR was about 42 percent, according to "The World Factbook," compiled and updated regularly by the US Central Intelligence Agency. As of today, 2019, it has fallen to less than 30 percent. 
*Thanks to Randi Bjornstad and his Homes from the Heart article Nov 13, 2011, and the Register-Guard, Eugene, Oregon
Next week: Ron Zauner returns to the DR, Project 2, and the continuing successes of Providing Opportunity in Barrio Blanco.