Arrival of two cruise ships to Puerto Plata suspended due to storm Franklin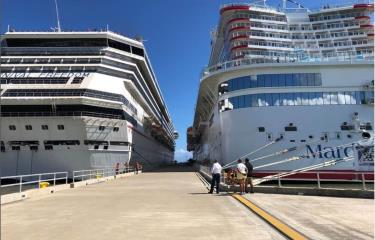 Puerto Plata.- Due to the potential impacts of tropical storm Franklin passing through the Dominican Republic, the arrivals of two cruise ships scheduled for Tuesday at the ports of Puerto Plata have been postponed. The cruise liners affected are the Carnival Celebration, initially set to dock at Amber Cove Terminal, and the MSC Seascape, destined for Taino Bay.
The North Regional Director of Tourism, Atahualpa Paulino, informed that the visit of the Carnival Celebration has been rescheduled for the upcoming Friday.
The two cruise terminals in Puerto Plata had planned to welcome a total of 27 cruises in the current month. Among them, 16 were anticipated to arrive via the Amber Cove port, owned by Carnival Corporation, while the remaining 11 were scheduled for the Taino Bay terminal, operated by the ITM Group.
These cruise ship visits serve as a significant economic boost for Puerto Plata, fostering local business and promoting tourism. This contributes positively to the overall community and local economy.