Vaccine researcher, Down Syndrome initiative creator: Man and Woman of the Year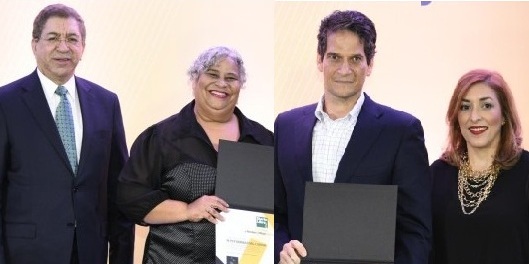 Y. Donastorg, second from left, O. Villanueva, second from right.
Santo Domingo.- The creator of "Quiereme Como Soy" (love me as I am), Oscar Villanueva, and vaccine researcher Dr. Yeycy Donastorg, were chosen as Man and Woman of the Year 2016, by newspaper Diario Libre, which recognize the initiatives of Dominicans to build a better nation.
A business leader, Villanueva is heads the "Quiereme como Soy" Foundation, which hosts a mass event and other activities annually to make people aware of people living with special conditions, specifically Down Syndrome.
The foundation's work includes student awareness programs and the offer of jobs for young people with special conditions.
Dr. Donastorg heads the Dermatological Institute's Vaccine and Research Unit, conducts studies on drugs and HIV vaccines in coordination with the Public Health Ministry and international institutions, and participates in the creation of an anti-chikungunya vaccine.
Finalists
The finalists for Man of the Year were Camilo Rijo, Juan Oviedo, Oscar Villanueva, Jesuit priest Mario Serrano and Ricardo García.
The finalists for Woman of the Year were Flor de la Cruz, Carmen Celeste Jiménez, Gisela Eusebio, Yeycy Donastorg Cabral and Samantha Canals