Lyle O. Reitzel Gallery announces solo exhibition '80Eyes/Kennedy'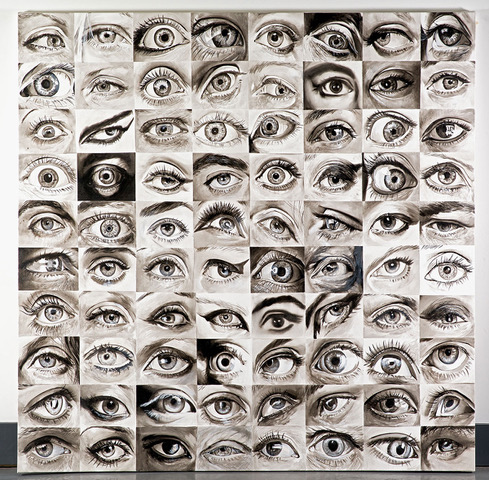 New York.- Lyle O. Reitzel Gallery New York is pleased to announce its upcoming solo exhibition "80Eyes/Kennedy" by Brooklyn-based Mexican artist Victor Rodriguez, opening on September 9, 2017, in its Lower East Side space at 139 Eldridge Street.
The selection of works encompasses the 2013-2017 period, including some portraits of his long-time muse, who has become part of his essential iconography.
"80Eyes/Kennedy" is a mash-up of two of the large-scale pieces that comprise the exhibition, curated by Victor Rodriguez and gallerist Lyle O. Reitzel. "80Eyes" is a recreational exercise of captivating moods and emotions solely through the look, and heavily contrasts with "Kennedy Dodecahedron", a piece that entails a harsh, controversial political statement of current events, when the decadence of the more conservative spheres make us feel as if the dream is over.
This irony is characteristic of Rodriguez's work, also seen in his usual interpretations of the classical theme of vanitas, a commentary on life's absurdity and ephemeral fragility, with a touch of his distinctive humor. In his own words, "the responsibility and frailty of democracy resides in the people or the bourgeois conformity and its dangers".
While Rodriguez's work is considered by some as Hyperrealist, "it isn't a simulacrum of truth, but a construction of a reality that becomes seductive, abysmal, punk, and chromatically rich and dark", as Melisa Arzate Amaro eloquently affirms in an article published in Cultura Colectiva. She continues:
"The naturalism and realism are nets waiting to capture unsuspecting viewers in order to finally drag them through a pictorial surface filled with chromatic experimentations, cinematographic frames, postmodern iconography, and ontological transgressions."
Victor Rodriguez was born in Mexico City, established in Brooklyn, NY for the past 20 years. He has been awarded by multiple institutions, as the First Prize at the 2002 Museo Tamayo Biennale, Mexico City. He exhibited a mid-career retrospective at the prestigious MARCO, Contemporary Art Museum of Monterrey. Other exhibition sites include the Museum of Contemporary Art, San Diego; Museo de la Cancillería, Mexico City; the Heumer Hall in Berlin, Germany; Art Basel 2005.
Lyle O. Reitzel Art Gallery, founded in Santo Domingo in 1995, launches its new branch in New York on June 2016 with the Solo Show "Tales from the Caribbean Nights" by Dominican artist José García Cordero.
Lyle O. Reitzel has been operating in the international panorama for over 20 years from its space in Santo Domingo, and during the 2005-2010 period in Miami, participating in prestigious contemporary art fairs, hosting tens of exhibitions in museums, galleries, and institutions of the world, and with a select representation of artists of the caliber of Luis Cruz Azaceta, Edouard Duval- Carrié, Ignacio Iturria, José Bedia, Scherezade García, Raúl Recio and more.
Opening: Saturday, September 9, 2017, 6-9 PM
The show will be on view until October 22, 2017.