Many Haitian women give birth in Dominican hospitals, distort figures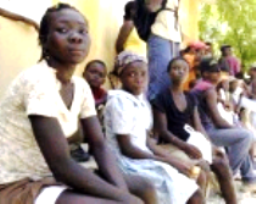 File.
Santo Domingo.-  Dominican Obstetrics-Gynecology Society secretary Dr. César López on Sunday said it's very difficult to find that women of Haitian nationality don't come to give birth in the Dominican Republic. "In the capital, 40% of women in labor are Haitian."
He said that's the basic problem that increases maternal mortality in the country, since they are malnourished women, without prenatal consultations, with high prevalence and incidence of AIDS, syphilis and tuberculosis, and are patients which already have complications.
"Added to this is the fact that they are women who haven't had prenatal consultations in this country and do not have the necessary follow-up because their culture prevents them and only go to hospitals to give birth," said the specialist on Antena 7 Channel 7.
He said to prevent the high incidence of Haitian women who come to Dominican hospitals not to affect national statistics on maternal mortality, immigration must first be controlled to avert influencing the rates.