US Ambassador Bernstein ponders baseball role between DR and EU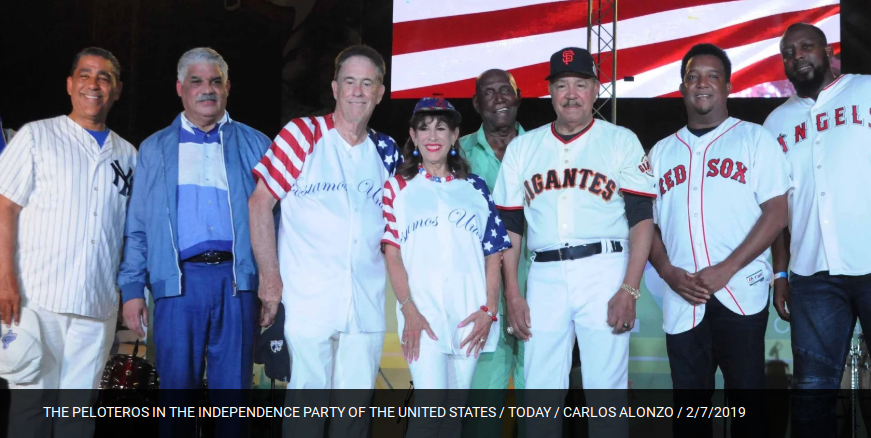 The ambassador of the United States in the Dominican Republic highlighted the importance of baseball for the union between both nations.
The diplomat Robin Bernstein also praised the quality of the Dominican baseball players who have played for decades in the Major Leagues.
The American ambassador spoke about it when heading last night, at the Quisqueya Juan Marichal Stadium, a meeting with former Dominican luminaries who played in the big leagues.
The United States Embassy celebrated the 243rd anniversary of the independence of their country in advance, with an event honoring members of the Cooperstown Hall of Fame Juan Marichal, Pedro Martínez and Vladimir Guerrero, and Sammy Sosa.
"Baseball unites us as nations. This day we celebrate the independence of the United States, but also these three men have shown that they are among the greatest who have played the sport. They represent in a positive and proud way the Dominican Republic. Their personalities full of generosity and the humble spirit of each one never ceases to amaze me," said Robin Bernstein.
During the activity, Robin Bernstein announced the initiative SAFE (Healthy, Insured, Trained and Successful), which seeks to protect the thousands of young Dominicans who practice the sport harboring the dream of reaching the Major Leagues.
A NOTE
They were present
Miguel Tejada, Miguel Batista, Quilvio Veras, and other players, as well as former presidents Hipólito Mejía and Leonel Fernández.
The Dominican congressman of Dominican nationality, Adriano Espaillat had words of praise for the ambassador and thanked her treatment of the Dominicans.