Dominican Republic wins its second gold in women's volleyball in Pan American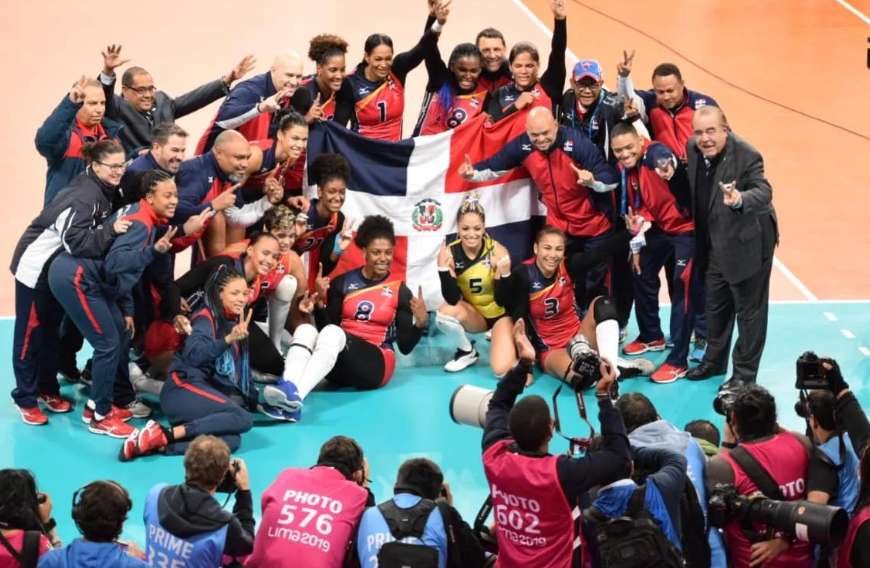 Lima, (EFE) .- The Dominican Republic women's volleyball team defeated Colombia on Sunday 1-3 and won the title and gold medal of the Lima 2019 Pan American Games, the second in their medal tally after the one obtained in Santo Domingo 2003.
In the sports center of the Lima port of Callao, the Dominicans waged a pressure game against a daunting rival, who had already won by the same score in the group series, but this time showed the wear of the semifinal game the team played on Saturday night against Brazil (3-2).
The Queens of the Caribbean, who won the bronze in Toronto 2015, stayed with the first set by 20-25, after imposing their physical size, with solid blocking on the net and good reception, which highlighted the work of "the liberator" Brenda Castle.
In a fast-paced beginning, the power of Brayelin Martínez and Prisilla Rivera was evident, as they baffled an opponent which sought a retort through the game by Dayana Segovia and Amanda Coneo. The second quarter showed the other side of the coin, with an improved Colombia in all its lines, mainly at the reception, guided by the skills of Segovia, Coneo and María Marín, who always kept their team in front on the scoreboard until closing a 25-19. However, the Dominican Republic rallied with machine-like drive in the third quarter, again led by Martínez, to quickly place itself in a 0-5 win.
Colombia came from behind and, guided by Coneo, fought point to point to achieve a 25-25 that rendered the stands delirious, although finally, the Caribbean Queens won 25-27. Already in the fourth and final set, the Dominicans maintained control of the actions, repeatedly hit the net and polished their block until they reached a strong final score of 16-25.
In the match for third place and the bronze medal of the women's volleyball of the Pan American Lima 2019, Argentina defeated Brazil 3-0, with partials of 24-26, 20-25 and 21-25, after almost an hour and game average
Data sheet- 1.- Colombia- Dayana Segovia, Amanda Coneo, Melissa Rangel, Margarita Martínez, Valerin Carabali, María Marín -initial team-, Juliana Toro, Angie Velásquez, Ana Karina Olaya, Verónica Pasos, Camila Gómez (libero)
3.- Dominican Republic- Niverka Marte, Lisvel Eve Mejía, Brayelin Martínez, Bethania de la Cruz, Prisilla Rivera, Jineiry Martínez -initial team-, Annerys Vargas, Gaila González, Camil Domínguez, Brenda Castillo (libero). Partial- 20-25 (28m.), 25-19 (29m.), 25-27 (35m.), 16-25 (27m.). Referees – Karina Rene (ARG) and Andrew Robb (CAN).