Dominican Republic achieves unprecedented victory over China in Nations League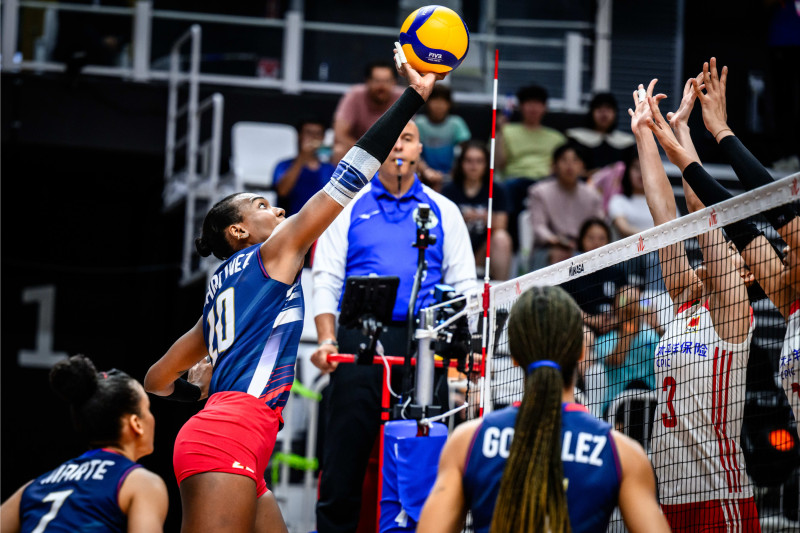 Suwon, Korea.- In a thrilling match at the ongoing League of Nations Championship, the Senior Women's National Volleyball Team of the Dominican Republic achieved a historic victory over the Chinese team with a score of 3-2 (20-25, 25-20, 22-25, 25-20, 15-13). This marks the first time the Dominican Republic has defeated China in a senior competition.
The Queens of the Caribbean will face the Serbian team, ranked fourth in the world, in their next match. This victory against China is their second consecutive win in the tournament.
It is worth mentioning that in the 2014 World Cup in Italy, the Dominican team came close to defeating China, leading 2-0 before eventually losing 3-2. However, in junior categories, the Dominican Republic has previously defeated China, the powerhouse Asian country with over 1.4 billion inhabitants.
Gaila González led the Dominican offensive attack with an impressive 35 points, followed by Jineirys Martínez with 22 points and Brayelin Martínez with 19 points. Yingying Li stood out for China with 22 points, supported by Yuan Xinyue's 16 points.
The match was intense and showcased offensive and defensive battles from both teams. After losing the first set, the Dominican players continued to fight fiercely against the Chinese team, currently ranked 5th in the FIVB World ranking.
In the second set, the Dominican team demonstrated solid attacks from Gaila González, Brayelin Martínez, and Jineirys Martínez, who faced strong defensive resistance from their opponents but managed to prevail.
The Dominicans' blocking game played a significant role, often disrupting the Chinese team's rhythm.
In the third set, China mounted a comeback with powerful attacks and excellent defense, taking the set and leading the match 2-1.
In the fourth set, the trio of Gaila, Brayelin, and Jineirys, supported by Brenda Castillo, Yaneirys Rodríguez, and Geraldine González, fought relentlessly to level the match and force a decisive fifth set.
The final set was tightly contested, with both teams refusing to give an inch. With the score tied at 12-12, the Dominicans managed to score three crucial points, leading to their joyous celebration of this hard-fought victory.