FIBA considers the Dominican Republic a real candidate for a medal in the Basketball World Cup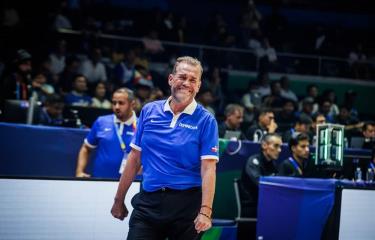 The Dominican Republic's basketball team has surprised many by securing an impressive 3-0 record in Pool A of the FIBA Basketball World Cup 2023. This unexpected performance underscores why the team shouldn't be underestimated and why they might return from the Philippines with well-deserved honors. Here are five reasons why the team is a serious contender:
Nestor "Che" Garcia:
Nestor 'Che' Garcia has a track record of bringing out the best in players and achieving remarkable feats, such as Venezuela's victory over Canada in the FIBA AmeriCup 2015 Semi-Finals and the Dominican Republic's surprising win against Germany in the 2019 World Cup First Round. His coaching approach resonates with players on and off the court, making him not just a basketball coach, but a life coach.
Karl-Anthony Towns:
Karl-Anthony Towns, a versatile player, brings his skills on and off the court to the team. His humility and dedication to playing for his mother's country make him a crucial asset. Coach Garcia's excitement about Towns' participation speaks volumes about his impact on the team. Towns also demonstrated his leadership from the bench, even when faced with challenges.
Winning Without Towns:
The Dominican Republic achieved victories over Argentina without Towns during the Americas Qualifiers. They managed to adapt and succeed despite his absence, indicating their depth and resilience.
Quinones' Potential:
Lester Quinones, known for his sharpshooting, hasn't found his rhythm from the outside yet. However, his talent suggests he'll soon regain his form, making him a player to watch out for in upcoming games.
High Talent and Motivation:
The team boasts talent and motivation, having surprised by reaching the Second Round four summers ago and qualifying for this World Cup by defeating Argentina. Their defense has improved significantly, and their aggressive playing style sets them apart. They are driven by the desire to prove skeptics wrong and showcase their potential on a global stage.
When considering these factors collectively, it becomes evident that the Dominican Republic's basketball team is a genuine contender in the tournament.