Cooperation agreement between Dominican Republic and Cuba covers tourist sector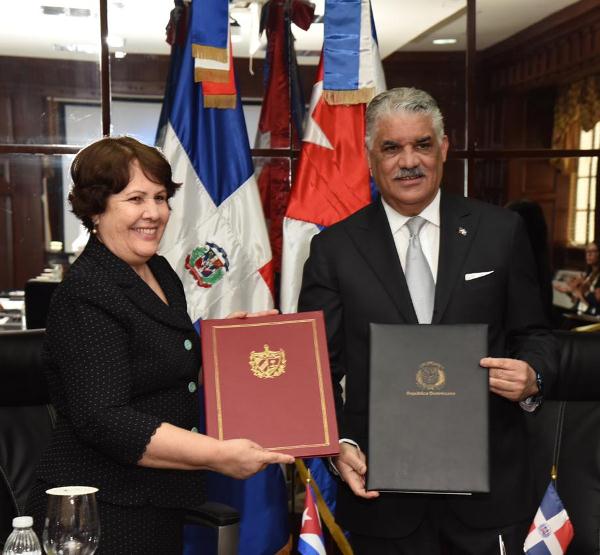 The Minister of Foreign Affairs, Miguel Vargas Maldonado and the Ambassador of Cuba in the Dominican Republic, Milagros Carina Soto Agüero
The Minister of Foreign Affairs, Miguel Vargas Maldonado and the Ambassador of Cuba in the Dominican Republic, Milagros Carina Soto Agüero, signed a framework agreement on technical, scientific, educational and cultural cooperation for the formulation and execution of programs, projects, and actions in priority areas for both countries.
"This agreement will serve as a basis to conclude complementary cooperation agreements in specific areas of common interest," said the Dominican foreign minister.
According to the agreement, the parties will collaborate on issues of tourism, health, education, agriculture, agro-industry, gender issues, environmental management, commercial promotion, sports, and other sectors.
The signature was made at the Foreign Ministry's headquarters, before the start of the Meeting of the Political Consultation Mechanism between both nations, at the vice-ministerial level.
"For the Dominican Republic it is a priority to work on strengthening bilateral relations with the Caribbean countries, and in a very particular way with Cuba, with which historical, cultural and social ties link us," said Miguel Vargas.
He stressed that these meetings serve as a handy tool, to determine the issues of common interest in which the parties wish to move forward and thus develop a road map that allows boosting bilateral ties.
Ambassador Soto Agüero thanked Chancellor Vargas for the materialization of the agreement and ratified the friendship between his country and the DR, since "with Cuba, they can continue counting so that our relations continue to grow."