Foundation assumes land and sea collection of north coast plastic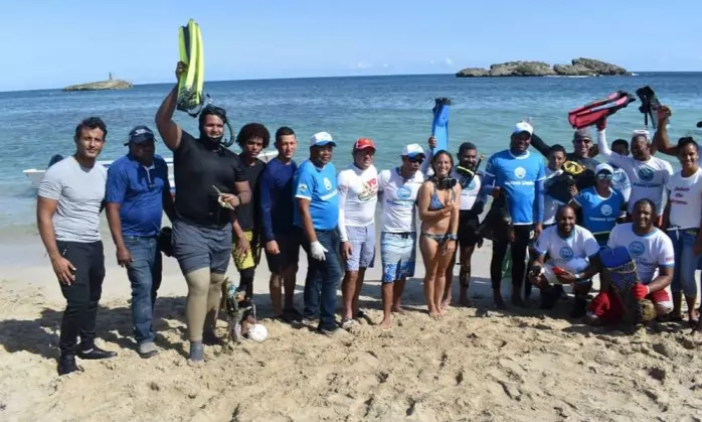 Puerto Plata The Clean Ocean Foundation, together with volunteers worried about pollution, collected dozens of tons of garbage both on the beaches and in the Atlantic-Caribbean Ocean.
The cleaning day involved more than 150 volunteers and about 50 divers in cleaning up the trash and carelessly discarded garbage along a large part of the north coast.
Also, they worked to eliminate litter—especially plastics that are the most damaging to marine species.
Johan Manuel Bierd Vásquez, president of the Clean Ocean Foundation, reported that in total, they managed to remove two tons of garbage from the ocean, from plastic to non-degradable material.
"We must all work towards a clean ocean and encourage people to join the initiative to avoid throwing trash and litter into their waters," says Bierd Vásquez. We must prosecute the careless, inconsiderate tossing of litter and trash as the crime it is.
Personalities from all over the province of Puerto Plata joined this cause because thoughtful care and consideration of the ocean and beaches that attract thousands of tourists every year is urgently needed.
They considered that fixed brigades should be placed to clean the coasts and create a project that avoids the use of plastics on the beaches.
Except for the Public Works brigades, the presence of government authorities was conspicuous in their absence on this cleaning day.
Also, the restaurant owners joined the general clamor of working together to clean the coasts.
They believe it necessary to eliminate the use of non-biodegradable plastics.
The beaches in the principal municipality of San Felipe de Puerto Plata are frequently affected by sargassum and contamination by way of trash-littered ravines. Winds eventually blow their contents onto the sands and ultimately to the sea.
Frequently a large number of people who operate their businesses in the area of ​​the seawall are observed, throwing all kinds of trash and litter.
There need to be strict fines imposed on anyone observed committing such crimes. And littering is a crime against everyone and nature itself.