Meet the 3 cruise ships that have brought the most passengers to the Dominican Republic in 2022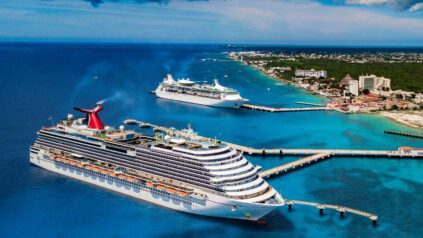 Carnival Mardi Gras
The Dominican Republic is an attractive destination for cruise tourism since, according to data from the Ministry of Tourism (Mitur), 807,489 cruise passengers disembarked in the DR in the first nine months of the year (the figure includes cabotage, i.e., passengers going from one Dominican port to another). The port of Amber Cove, in Puerto Plata, welcomed 54.3% of them.
Passengers of 188 nationalities, with 54% women and 28.7% between the ages of 57 and 75, arrived on 159 vessels (475 port calls).
The figures pertain to cruise ships of various companies, sizes, and status, and according to Revista Mercado, the three that brought the most passengers to the DR between January and September are:
Carnival Mardi Gras
Mardi Gras brought over 125,000 cruise passengers of 121 nationalities, all embarked at Port Canaveral (Florida) and disembarked at Amber Cove.
More than 15% of the cruise passengers who have disembarked in the Dominican Republic have done so on the back of the Mardi Gras. Weighing 180,000 tons, 42 meters wide, and 344 meters long, this imposing cruise ship can accommodate 5,282 passengers with a crew of 1,745. It has 13 decks and reaches a speed of 23 knots.
Carnival Horizon
The cruise ship has brought nearly 112,000 passengers to the DR in the first three quarters of 2022, linking the port of Miami with Amber Cove (61,949 passengers) and La Romana (49,942). With a capacity for 3,960 passengers and almost 1,500 crew members, Horizon weighs more than 133,000 tons and dimensions 324 meters long and 37 meters wide. She has 15 decks and 1,987 cabins, and her sailing speed is 18 knots.
MSC Seashore
With 170,000 tons, 339 meters long and 41 meters wide, the MSC Seashore joined Miami and Taino Bay, Puerto Plata, to transport 52,709 people between January and September. A capital ship with 20 decks, 2,270 cabins, and a capacity for 5,877 passengers and 1,648 crew members.