An analysis is being conducted on the impact of cruise tourism in Puerto Plata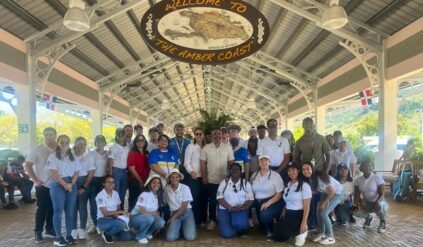 The Puerto Plata Destination Tourism Cluster (CTDPP) and the School of Tourism and Gastronomy of the Pontificia Universidad Católica Madre y Maestra (PUCMM) have formed a strategic alliance to analyze the impact of cruise tourism in the province. As part of this partnership, students and teachers from PUCMM visited the Amber Cove and Taino Bay ports to conduct surveys that will reflect the cruise industry's impact on the value chain and the local economy.
This field practice is part of a larger effort to establish a market intelligence system that collects and analyzes data and statistics in a systematic, objective, and transparent manner to plan strategic projects related to tourism in Puerto Plata. Students from the Santo Domingo and Santiago campuses participated in the survey, capturing data on visitors' demographics, spending levels, satisfaction, and willingness to return. Interviews will also be conducted to investigate the effects of cruise operations on employment.
The information collected during the survey will serve as a baseline study of the socioeconomic impact of cruises in Puerto Plata. The results will be published later and will be used by the Ministry of Tourism's (Mitur) cruise department to continuously compile updated data.
Representatives from PUCMM, CTDPP, Mitur, and port managers from Amber Cove and Taino Bay were involved in this project. Ina Percival, director of the School of Gastronomy and Tourism of the Santo Thomas de Aquino campus, and teachers Clara Barriola, Mirian Laureano, Jetti de Jesús, and Soraya Sànchez represented PUCMM.