Puerto Plata will attract 27 cruise ships during this month of August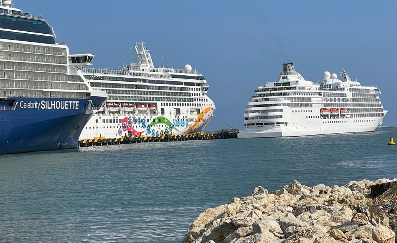 Puerto Plata, DR.- The North regional director of Tourism, Atahualpa Paulino, announced that Puerto Plata is expecting a total of 27 cruise ships to arrive in August, docking at the Amber Cove and Taino Bay tourist ports.
Out of the 27 cruise ships, 16 will be arriving through the Amber Cove port, which belongs to the renowned company Carnival Corporation. The remaining 11 cruise ships will dock at the Taino Bay port, owned by the ITM Group.
Despite being the off-season for the tourism sector in the Caribbean, Puerto Plata continues to maintain its attractiveness and tourist appeal, drawing a significant number of cruise ships to the city.
Paulino expressed his satisfaction with the arrival of the cruise ships and emphasized the importance of preserving Puerto Plata as a desirable tourist destination. He highlighted the city's natural beauty, cultural richness, and warm hospitality, earning it the nickname "Atlantic bride."
The regional tourism office is working in coordination with local stakeholders to ensure a safe and enjoyable experience for tourists visiting the city.