JetBlue promotes discounts on flights to the Dominican Republic in the face of frequent complaints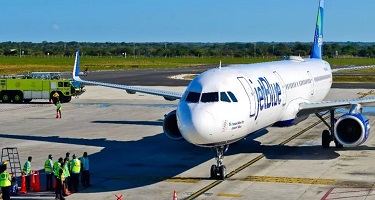 Santo Domingo.- Despite the inconveniences JetBlue is experiencing with its connecting service to the Dominican Republic due to flight delays and cancellations, this week, the airline is promoting flights to cities in the United States at a minimum initial price for August and September.
In that regard, to fly to Santo Domingo from JFK, you must pay a minimum of US$161. The initial price increases to $170 to the same city from JFK.
You can also fly from Newark Airport in New Jersey to the Dominican capital for US$161; or to Punta Cana for US$171.
Meanwhile, the New York-based airline highlights that the one-way flight from La Guardia Airport to New Orleans, Louisiana, starts at US$49.
If you prefer to take off from John F. Kennedy International Airport (JFK), the amount increases to $59.
Another economical option is a $64 flight to Nashville, Tennessee, departing from JFK or LaGuardia.
To Denver, Colorado, the minimum cost is US$89 from either airport.
To Orlando, Florida, you can travel for a base fare of US$59.
If you prefer Hawaii as your destination, you can get to Honolulu by paying a minimum of US$312.
The ticket to Puerto Rico starts at US$147, traveling from LaGuardia to San Juan; if you take off from JFK, the minimum cost would be $144.
For $171, JetBlue also takes you to Bogota, Colombia, from JFK or La Guardia. To Guayaquil, Ecuador, the cheapest ticket is $223 from JFK.
You can also change your departure and arrival options through the "Best Fare Finder" tool on the JetBlue website. In addition, you can filter your search by region.
The above fares do not include taxes and do not include additional charges for other services.
Prices displayed are real-time, subject to availability, and may change anytime.