Tourism, a magnet for business between the Dominican Republic and India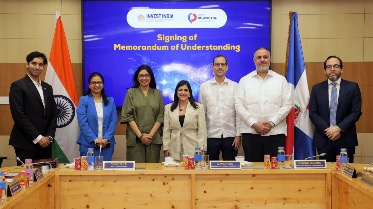 During a trade mission in India, Biviana Riveiro, the executive director of ProDominicana, the Export and Investment Center of the Dominican Republic, highlighted the business opportunities available in the country. The Dominican Republic's political, social stability, and economic elements, combined with sectoral incentives in tourism, free zones, and border development, make it an ideal destination for traditional or innovative industries, such as pharmaceuticals, automobiles, and electricity.
The trade mission was organized by the Dominican ambassador in India, David Puig, and his embassy team. During the visit, ProDominicana signed an agreement with Invest India, the Investment Promotion and Facilitation Agency, to strengthen investment trade links between both nations and share best practices.
Riveiro held several institutional meetings, including discussions with the Secretary of Commerce Sunil Barthwal to explore business opportunities and mutual collaboration. She also met with Meenakashi Lekhi, the Honorable Minister of State for Foreign Affairs and Culture, to enhance relations and exchanges between the two countries.
The Dominican delegation explored support and financing mechanisms for investments and megaprojects with Utpal Gokhle, the chief general manager of India EximBank.
Additionally, the trade mission resulted in over 70 contacts and more than 25 individual meetings with important Indian companies, including TATA GROUP, Satang GM, Kalpataru International Limited, Dr. Reddy's Laboratories, Mahindra, and others. The mission aimed to strengthen economic ties and foster collaborations between the Dominican Republic and India in various sectors.