Punta Cana International Airport receives an award for the seventh consecutive year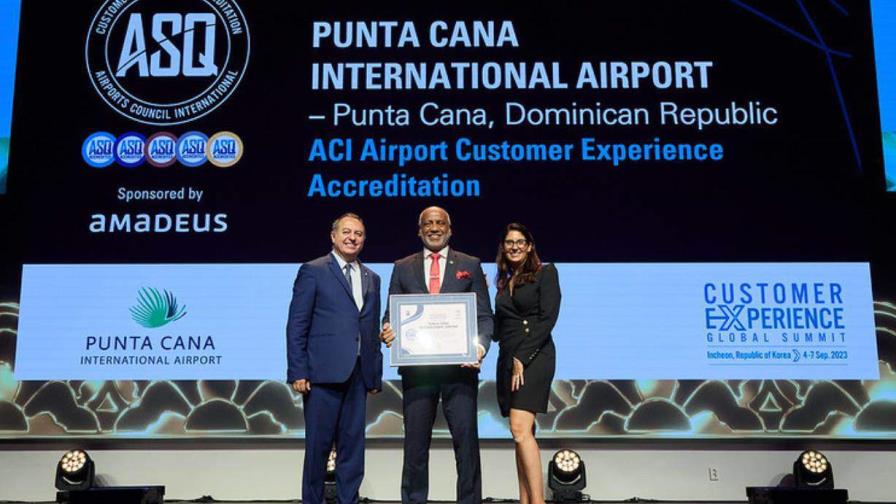 Punta Cana.- The Punta Cana International Airport (PUJ) has been awarded the "Best Airport by Size and Region" in the category of 5 to 15 million passengers per year in the Caribbean and Latin America at the Airport Service Quality (ASQ) awards ceremony by the Airports Council International (ACI). This marks the seventh consecutive year that the airport has received this prestigious recognition.
In addition to this award, the Punta Cana International Airport also received the new Customer Experience accreditation, which guides airports toward excellence in customer experience management across various domains.
The airport's director of Landside Operations, Alberto Smith, accepted the award on behalf of the airport during a ceremony held in the Republic of Korea. He expressed gratitude to the more than 8,000 people working at the airport for their dedication and commitment to achieving this recognition.
The Punta Cana International Airport continuously evaluates passenger satisfaction metrics to implement improvements and create the best possible travel experience for passengers. This commitment to excellence has established the airport as one of the top 10 airports in Latin America and the most important in the insular Caribbean.
The airport recently expanded Terminal B, initially catering to airlines from North America with plans to extend connectivity routes to Latin America and Europe. It serves as a vital hub connecting 64 cities in 26 countries and transports eight million passengers annually.
The Airport Service Quality Awards program, organized by ACI, assesses passenger satisfaction and recognizes airports worldwide that offer outstanding customer experiences. The Punta Cana International Airport's consistent excellence in this area highlights its importance in the Dominican Republic's growing tourism industry.