"The American dream is now called Canada": Hundreds of people leave New York every day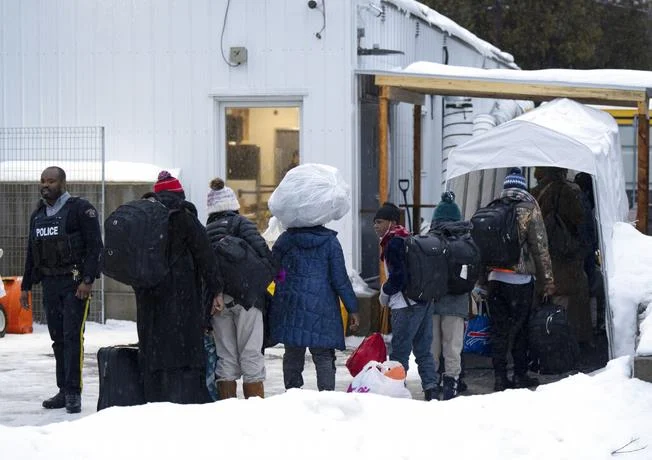 Hundreds of immigrants travel through the irregular passage of Roxham Road from the United States to Canada every day, providing a lifeline for New York City, which has received 45,000, mostly Latin Americans, in less than a year and is now attempting to relocate them elsewhere. As EFE was able to confirm at this border crossing, a hundred immigrants from Venezuela, Nicaragua, Colombia, and Haiti entered Canada within an hour, but also from as far away as Nigeria, Turkey, and Pakistan. They had all arrived from New York, and all were terrified of what lay ahead of them, but none had been returned.
According to Canadian immigration officials, 4,689 people crossed through Roxham Road in December alone, while New York City, which declines to provide a specific number, says those who have left are only "a small part of the more than 45,000 asylum seekers that we have assisted," according to Anne Williams-Isom, Deputy Mayor for Health and Human Services. The New York mayor, Eric Adams, has acknowledged that he has launched a strategy that he called "decompression" of the migratory wave and that the Mayor's Office is financing the "voluntary" trip for anyone who wants to leave the Big Apple to any destination in the United States.
The offer is sibylline in the case of the border with Canada: the trip is financed for whoever wants it in buses that leave New York for Plattsburgh, a small city with no major interest other than being close to the border with Canada; in fact, the buses continue the journey from there to Montreal, but almost all travelers get off first to cross the illegal crossing. Plattsburgh taxi drivers, who see at least six buses arrive every day and practically live by transporting people to the Canadian border for the "modest" price of $50 per person (15 minutes away), believe that the amount advanced by Canadians is inadequate, and there are many more.