Dominican President Luis Abinader receives the credentials of eight ambassadors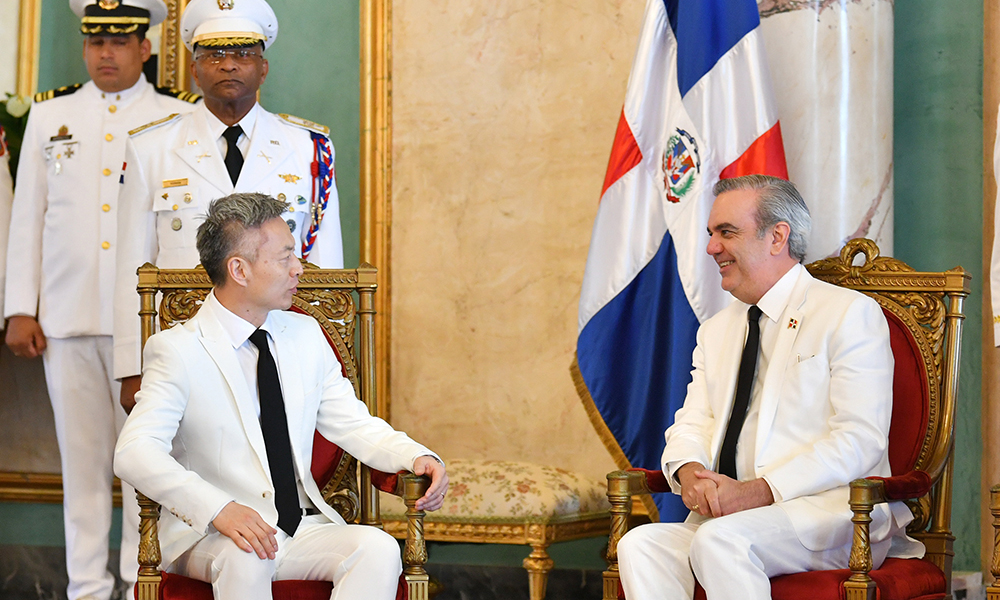 Santo Domingo.- President Luis Abinader welcomed eight new ambassadors who presented their letters of credentials to represent their respective countries in the Dominican Republic. The ambassadors hail from El Salvador, the People's Republic of China, Colombia, the Republic of Yemen, the Republic of Belarus, Thailand, Hungary, and Sweden. In a ceremony held at the National Palace's Hall of Ambassadors, President Abinader received the credentials of the following ambassadors: Dania Elena Tolentino Membreño from El Salvador, Luning Chen from China, Darío Villamizar Herrera from Colombia, Mohamed Saleh Nasher Mana from Yemen, Valery Baranovsky from Belarus, Kallayana Vipattipumiprates from Thailand, Balázs Heincz from Hungary, and Hanna Lambert from Sweden.
The President was accompanied by Vice President Raquel Peña, Dominican Foreign Minister Roberto Álvarez, and officials from the Presidency's protocol and the Ministry of Foreign Affairs. Dania Elena Tolentino Membreño, the ambassador from El Salvador, was the first to present her credentials. She has previously served as her country's ambassador to Honduras and Chile. Luning Chen, the ambassador from China, has held various positions within the Chinese Ministry of Foreign Affairs and has served as a counselor in Peru and Cuba.
Darío Villamizar Herrera, the Colombian ambassador, is a political scientist and has worked as an advisor to the Colombian Senate. Mohamed Saleh Nasher Mana, the ambassador from Yemen, previously served as his country's ambassador to Cuba. Valery Baranovsky, the ambassador from Belarus, has held ambassadorial roles in Lithuania and Cuba and worked as a counselor at the Belarusian Embassy in Ukraine. Kallayana Vipattipumiprates, the ambassador from Thailand, is also Thailand's ambassador to Canada. Balázs Heincz, the Hungarian ambassador, is an economist with extensive public service experience. Hanna Lambert, the ambassador from Sweden, also serves as her country's ambassador to Cuba.
The presentation of credentials marks the official beginning of these ambassadors' diplomatic missions in the Dominican Republic. Their presence and diplomatic efforts are expected to further strengthen relations and cooperation between their respective countries and the Dominican Republic.