Possible Tropical development in Eastern tropical Atlantic: National Hurricane Center provides latest update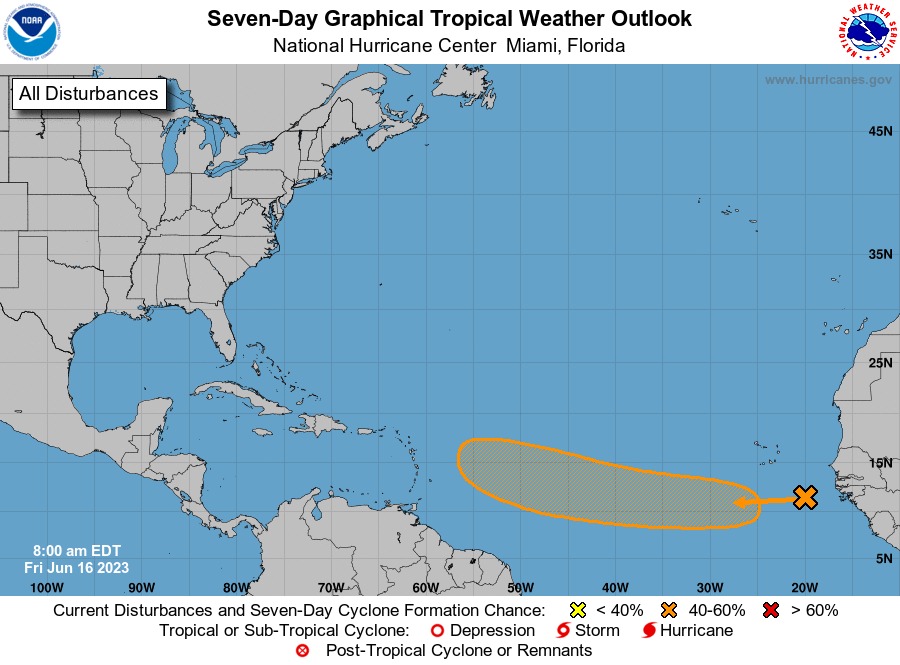 Santo Domingo.- The National Hurricane Center in Miami, Florida issued a Tropical Weather Outlook on June 16, 2023, for the North Atlantic, Caribbean Sea, and the Gulf of Mexico. The outlook provides information on a tropical wave currently located between the west coast of Africa and the Cabo Verde Islands.
This tropical wave is currently producing disorganized showers and thunderstorms. However, environmental conditions are favorable for gradual development. There is a possibility that a tropical depression may form during the early to middle portions of the following week as the system moves westward at a speed of 15 to 20 mph across the eastern and central tropical Atlantic.
The chances of formation are outlined in the outlook as follows: there is a low 10 percent chance of formation within the next 48 hours and a medium 50 percent chance of formation over the next seven days.
Forecaster Bucci, from the National Hurricane Center, has provided this information to keep the public informed and prepared for potential tropical weather activity in the region. It is important for residents and authorities in the affected areas to stay updated on the latest forecasts and heed any warnings or advisories issued by local authorities and meteorological agencies.