Resolution of the UN Security Council "is a huge step" for the pacification of Haiti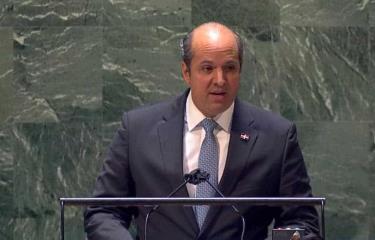 Santo Domingo.- The Ambassador of the Dominican Republic to the United Nations, José Blanco, expressed his satisfaction with the recent resolution passed by the UN Security Council, stating that it represents a significant step forward in the pursuit of peace in Haiti.
The resolution acknowledges the potential deployment of a multinational force or a UN peacekeeping mission to address the critical situation in Haiti, if forming a multinational force proves challenging, as requested by the Haitian government. The resolution mandates the Secretary-General, António Guterres, to submit a comprehensive report within 30 days, outlining various options for action in Haiti, including UN peacekeeping or non-UN forces.
The report will encompass support options that the United Nations can provide to enhance security in Haiti, such as combatting illicit trafficking and arms diversion. It also mentions the potential for additional training for the Haitian National Police and support for a non-UN multinational force or a peacekeeping operation, within the framework of a political settlement in Haiti.
Ambassador Blanco emphasized that the Dominican Republic has consistently advocated for these measures and actively influenced council members to understand the urgency and delicate situation affecting both Haiti and the Dominican Republic, as well as the wider region.
Furthermore, Ambassador Blanco highlighted the significance of renewing the mandate of the United Nations Integrated Office for Haiti (BINUH) and the resolution's encouragement for Member States to provide security support to the Haitian National Police (PNH). It also mentions the possibility of deploying a specialized force following consultation with Haitian stakeholders.