Child affected by explosion inside an apartment in Punta Cana was transferred to the US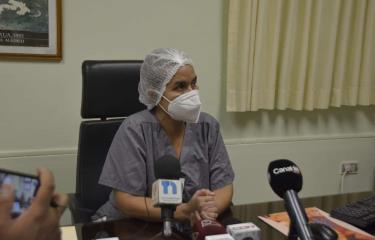 Santo Domingo.- One-year-old boy, Lucas Mella, who was injured in an apartment explosion in Punta Cana, La Altagracia province, has been transferred to Orlando, Florida, United States, to receive medical treatment. Dr. Renata Quintana, director of the Burn Unit at the Dr. Arturo Grullón Regional University Pediatric Hospital in Santiago, provided this information. The child suffered severe lung damage from inhaling smoke and has second-degree burns covering 45% of his body surface.
Lucas's parents, Luis Andrés Mella and Eileen Mella, who were also injured in the explosion, are expected to reunite with their son soon. Eileen had positive reactions, while Luis's condition remains stable.
The boy was initially transferred from Punta Cana to Santiago because the Arturo Grullón Hospital has the best-equipped burn unit for children in the country.
To support the family with medical expenses, an account has been set up to receive donations, managed by Francisco Mella Miller, Luis Andrés's brother. As of Saturday morning, $87,319 of the $120,000 goal to cover medical treatments had been collected.
The community's generous contributions are helping to provide essential medical care for Lucas and support his family during this challenging time.