After the closure of the US embassy in Haiti, its facilities are visited by goats and dogs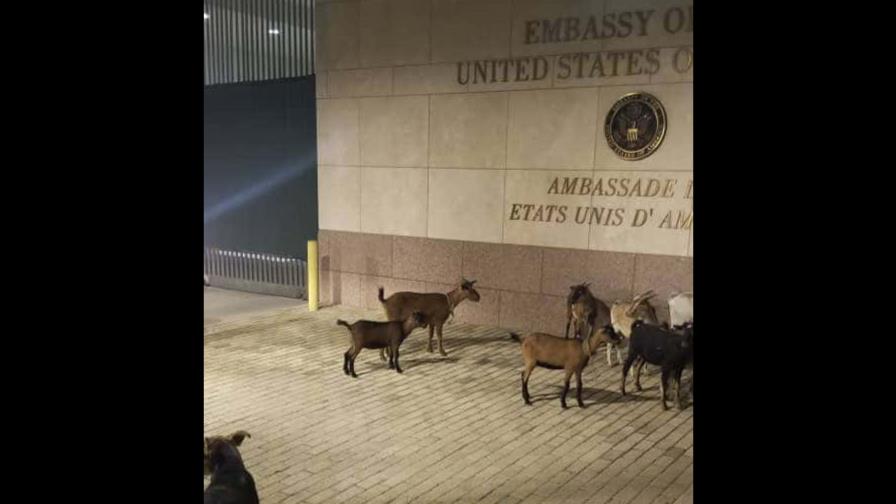 Haiti.- In the wake of the closure of the US embassy in Haiti, the surroundings of the embassy premises have transformed into a temporary habitat for visiting goats and dogs.
For the past two days, these animals have taken residence near the embassy, drawing attention and concern from observers on social media platforms.
Located in the Tabarre area of Port-au-Prince, the US embassy in Haiti announced significant restrictions and a state of confinement for its staff last Tuesday. This decision came in response to a day of violent incidents, including gunfire exchanges in the vicinity of the diplomatic compound.
The embassy's facilities were promptly closed indefinitely due to the escalating violence within the capital city. Limited operations were the only activities allowed to continue during this time.
In light of the ongoing risks, the diplomatic body communicated that "traveling between the compounds is prohibited" due to the possibility of routes to the embassy being affected by ongoing gunfire.
The events leading up to the embassy's closure were marked by a mass demonstration in Port-au-Prince on Monday. Thousands of Haitian residents took to the streets to protest against the prevalent insecurity situation, catalyzed by the activities of armed gangs. These criminal actions have forced numerous individuals to become internally displaced refugees within their own country.
The call for international intervention has echoed for nearly ten months, with Haitian Prime Minister Ariel Henry advocating for a multinational force to address the dire situation. On July 29, Kenya emerged as a willing leader, committing to deploy 1,000 police officers to Haiti. This endeavor aims to contribute to ending the multidimensional crisis and extreme violence that has inflicted suffering on the Haitian population for an extended period.