Law enacted to standardize driver's licenses between the Dominican Republic and New York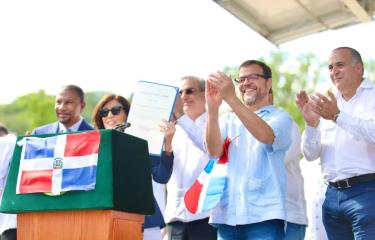 Santo Domingo.- New York Governor Kathy Hochul, Dominican Republic President Luis Abinader, and New York Senator Luis Sepúlveda have jointly signed Law S4329A on Sunday, which establishes a standardized process for driver's license issuance between New York and the Dominican Republic.
This historic law enables Dominican citizens with a valid driver's license from the Dominican Republic to obtain a New York driver's license by paying the specified fee, without needing to undergo driving tests. Likewise, drivers with a New York license can obtain a license in the Dominican Republic following the same procedure.
President Abinader expressed his gratitude to Governor Hochul for signing the law and highlighted the significance of this agreement for Dominicans in both New York and the Dominican Republic. He also thanked Senator Sepúlveda for his role in facilitating the process.
The law, sponsored by Senator Sepúlveda along with Assemblymen Phil Ramos and Manny de los Santos, marks a notable step in establishing driver's license reciprocity agreements between the two jurisdictions. The motor vehicle commissioner is authorized to create agreements ensuring that Dominican Republic license holders meet the same standards and regulations as New York State license holders.
The law is seen as a significant achievement, resulting from collaborative efforts between the governments of the Dominican Republic and New York, with contributions from Dominican Senator Alexis Victoria Yeb. This agreement is expected to benefit the lives of Dominicans residing in New York.