US Embassy in Haiti issues alert for shots fired near the diplomatic headquarters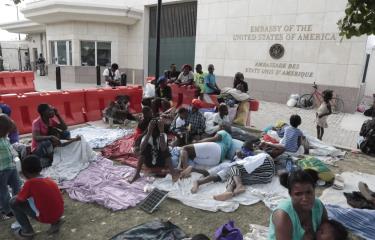 Haiti.- The US Embassy in Haiti has issued a security alert for its personnel in response to gunshots near the diplomatic headquarters. The Embassy has imposed temporary travel restrictions, confining all staff to the embassy premises until further notice. The alert advises US citizens to avoid the area, demonstrations, and large gatherings, and to refrain from attempting to pass through roadblocks. Instead, it suggests turning around and heading to a safe area.
Since July, the US Embassy in Haiti has issued multiple alerts and reduced its diplomatic staff due to escalating violence in the country. As the situation continues to deteriorate, the United Nations Secretary General, António Guterres, has called on member states to deploy a multinational force composed of special police forces and military support units to address the security crisis in Haiti. This force, acting bilaterally in cooperation with the Haitian government and endorsed by the Security Council, would engage in targeted police operations against heavily armed gangs.
These gangs have been causing widespread fear through kidnappings, armed robberies, and using rape as a weapon of war. Kenya has expressed willingness to lead this force and provide assistance to the Haitian police in restoring stability, pending approval from the Security Council.