Abinader will meet with the president of Kenya and MLB commissioner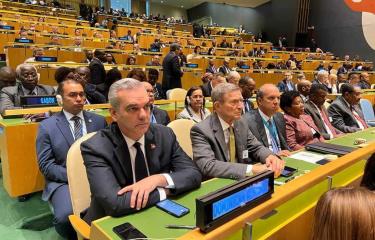 President Luis Abinader of the Dominican Republic has a packed schedule in New York, USA, where he is engaging in a series of significant meetings and events on Tuesday.
His day started with his participation in the opening of the 78th General Assembly of the United Nations (UN), where UN Secretary-General Antonio Guterres delivered welcoming remarks.
Following this, Abinader held a bilateral meeting with Xavier Espot Zamora, the head of the Government of the Principality of Andorra, at the UN headquarters in New York.
Later in the day, he had a lunch meeting with Robert D. Manfred Jr, Commissioner of Major League Baseball (MLB), at the MLB Commissioner's Office in New York.
One of the key events on his agenda was a bilateral meeting with William Ruto, the President of the Republic of Kenya, which took place at the Permanent Mission of Kenya to the United Nations. Kenya's commitment to leading a multinational force to assist Haiti was a central topic of discussion.
Abinader also attended an event at the Adam Smith Center for Economic Freedom at Florida International University, focusing on economic matters.
The President concluded his day by attending a reception hosted by US President Joe Biden at the Metropolitan Museum in New York, which further showcased his engagement in international diplomacy and regional issues, including the situation at the Dominican-Haitian border.