OAS calls on the Dominican Republic and Haiti for a "frank dialogue" on the Masacre River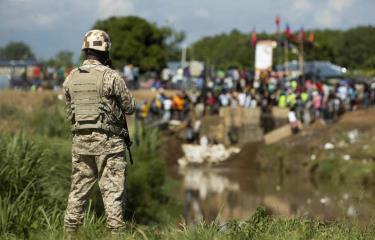 Santo Domingo.- The Organization of American States (OAS) has called on the Dominican Republic and Haiti to engage in a "frank dialogue" to resolve the dispute over the construction of a canal in the Masacre River. The construction of this canal has led to the closure of the border by the Dominican Republic and challenges from the Haitian authorities.
The OAS expressed its willingness to mediate between the two countries and offered its support in finding a beneficial solution for both nations. The organization emphasized the importance of dialogue, mutual understanding, and avoiding tensions to overcome the disagreement.
Consultations have already taken place with authorities from both Haiti and the Dominican Republic regarding the impasse. The Dominican Republic has called for a halt to the construction for dialogue, while Haiti insists on completing the work, claiming it is its right.
The OAS stated that both countries have equal rights to the Masacre River and its water resources and called for a resolution based on the principle of good neighborliness and friendship. It also emphasized that the use of the river should comply with international law and existing treaties between both nations.
On the Dominican side, the government has indicated the possibility of making border measures more flexible after the completion of the rehabilitation of the La Vigía canal, which is estimated to take two to three weeks. These measures include the closure of the border, suspension of visas for Haitian citizens, and the suspension of trade with Haiti, affecting Dominican producers.
Haitian Prime Minister Ariel Henry has expressed support for the canal's construction, emphasizing Haiti's sovereign right over the water resource. Despite this, the situation remains unresolved, with both nations maintaining their positions.