Diplomats from the Dominican Republic and Kenya in Egypt discuss Haiti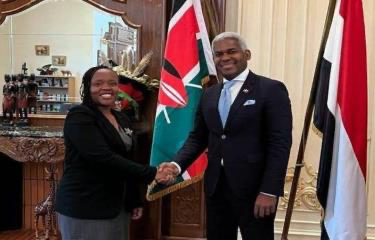 Santo Domingo.- Andy Rodríguez Durán, the chargé d'affaires of the Embassy of the Dominican Republic in Egypt, held discussions with his Kenyan counterpart, Victoria Rotich, aimed at strengthening diplomatic relations and addressing the Haitian issue.
During the meeting in Cairo, Rodríguez Durán engaged with Rotich on various topics of mutual interest. He expressed appreciation for Kenya's willingness to lead a joint force to promote peace in Haiti, highlighting the importance of international collaboration in addressing the security crisis in the Caribbean nation exacerbated by armed gangs.
The Kenyan delegation in Cairo included Counselor Roy Dzila, responsible for Consular and Diaspora Affairs, and Colonel Fred Muchera, Defense Attaché.
Rodríguez Durán also referenced the bilateral meeting between President Luis Abinader of the Dominican Republic and President William Ruto of Kenya, which took place on September 19 during the 78th session of the United Nations General Assembly. He characterized this meeting as beneficial for all parties involved, particularly in the context of multinational mission plans in Haiti aimed at finding a solution to the ongoing security crisis.
Additionally, he mentioned Foreign Minister Roberto Álvarez's call, made during a high-level meeting convened by Prime Minister Justin Trudeau of Canada on September 21, for the United Nations Security Council to approve an urgent resolution with a broad mandate for a security force in Haiti.
President Ruto had also urged the United Nations to expedite preparations for the deployment of a multinational security force, which Kenya has committed to lead in Haiti.
The discussions between the Dominican Republic and Kenya underscore the international efforts to address the complex challenges facing Haiti and to seek solutions through diplomatic cooperation.