Chancellor and Senator Iván Silva clash over maritime agreement signed with the Netherlands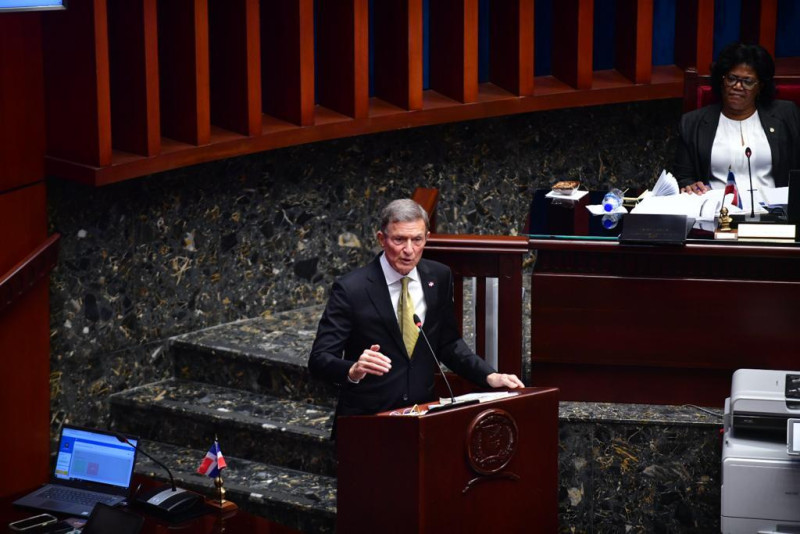 The Senate of the Republic invited Foreign Minister Roberto Álvarez to discuss the border situation and the government's measures regarding the ongoing issue with Haiti regarding the construction of a canal on the Massacre River.
During the Senate session, mainly attended by opposition senators, Álvarez answered questions and engaged in debates about border-related decisions and relations with neighboring countries.
Towards the end of Álvarez's participation, Senator Iván Silva from La Romana questioned him about an agreement signed in 2021 with the Kingdom of the Netherlands concerning maritime delimitation and alleged its unconstitutionality.
Álvarez responded by stating that the agreement's signing is under review by the Constitutional Court and that all participating institutions, including the Navy of the Republic and the National Cartographic Institute, had given their approval.
During the exchange, Silva asked Álvarez to be concise, which led to a back-and-forth exchange. The Senate President, Ricardo de los Santos, eventually called for order and deemed Silva's behavior as disrespectful.
The agreement in question focuses on maritime zone delimitation in the Caribbean region between the Dominican Republic and the Kingdom of the Netherlands. It adheres to the United Nations Convention on the Law of the Sea (UNCLOS) and aims to facilitate marine scientific research in their respective maritime zones.