Almost 70 thousand Haitians returned to their country in September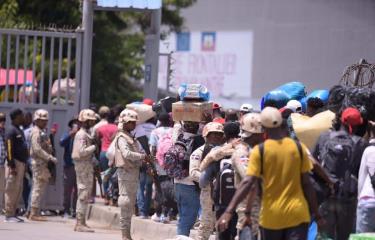 Port-au-Prince.- Amid the crisis between the Dominican Republic and Haiti over the construction of an irrigation canal in the Masacre River, Haitian statistics show that in September alone, 66,768 Haitians returned to their country, either voluntarily or deported by Dominican authorities.
The data includes 13,364 men, 2,782 women, 525 girls, and 397 boys who were deported through official border points like Anse-à-Pitres, Belladère, Malpasse, and Juana Méndez. Additionally, 4,289 men, 2,598 women, 995 girls, and 1,419 boys left through unofficial border points like Baptiste, Belladère (Rocher), Cornillon, Fonds-Verettes, Las Cahobas (Bateille), and Savanette (Miguel). These figures totaled 26,369 for September, marking a 9.4% increase compared to August 2023.
The Haitian authorities also report an increase in "voluntary returns" or spontaneous returns, totaling 34,081 Haitians for September 2023, which is approximately 57.8% more than the previous month (August).
Amid this situation, citizens are transporting items such as onions, bananas, pasta, vegetables, and other food products to Haiti through the Dajabón border crossing, where binational commercial activities have been halted in retaliation for restrictions imposed in the Dominican Republic due to the dispute over the Masacre River diversion. Haitian citizens are carrying these goods using bags, boxes, wheelbarrows, and other means, while also returning to their country "voluntarily" under the control of the General Directorate of Migration (DGM) on the bridge over the Masacre River. They are also transporting items like plastics and motorcycle parts.
Please note that this information reflects the ongoing dynamics in the border region between the Dominican Republic and Haiti.