UN says Haitian gang 400 Mawozo uses Dominican traffickers to acquire firearms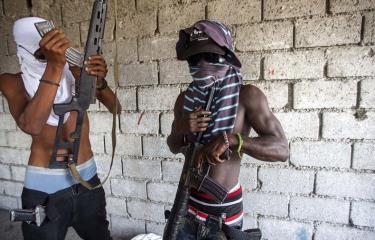 Santo Domingo.- The United Nations (UN) has recently published a report highlighting a troubling increase in firearms trafficking in Haiti, a country plagued by ongoing security challenges. According to the report, the primary source of firearms for Haiti is the United States, closely followed by the Dominican Republic. Several factors contribute to the appeal of the U.S. as a source, including its geographic proximity to Haiti, a sizable Haitian diaspora, relatively low firearm prices, and limited purchasing controls.
U.S. authorities have responded by stepping up vigilance, resulting in the interception of various firearms and ammunition shipments bound for Haiti. Miami, in particular, has been a key point for these seizures, given its role as a major export hub. Between January 2020 and July 2023, U.S. Customs and Border Protection confiscated a significant number of rounds of ammunition, receivers, and weapons, underscoring the scale of the issue.
Firearms in Haiti and the Dominican Republic command substantially higher prices compared to the United States, making arms trafficking a lucrative endeavor. Some Haitian criminal groups collaborate with Dominican traffickers to procure firearms. Furthermore, corrupt officials, including police officers, have been implicated in facilitating the illicit cross-border flow of weapons.
Another concerning dimension of Haiti's security challenge is the trade of firearms for marijuana with Jamaica. This trade route has evolved over time, contributing to the proliferation of firearms in the region. Regional security experts suggest that approximately 18 kilograms of marijuana can be exchanged for a firearm due to the high demand for such weapons in Jamaica.
The report also highlights the diversion of firearms from national arsenals, often resulting from theft or loss. Alarmingly, between 2012 and 2023, around 2,500 police firearms were reported as lost or stolen. Notably, some police officers have reportedly been involved in selling their own firearms and ammunition.
To compound the issue, homemade firearms, commonly referred to as "ghost guns," have emerged in the region. These privately manufactured firearms lack serial numbers, making them difficult to trace and regulate. This trend poses a considerable challenge to gun control efforts in the United States and the Caribbean.
The illicit trafficking of firearms and ammunition has significantly contributed to the expansion of gang control and escalating armed violence in Haiti. Addressing this critical issue requires a coordinated international effort, enhanced border controls, and a crackdown on corruption within law enforcement agencies.