President of the UN General Assembly visits Haiti and meets with Ariel Henry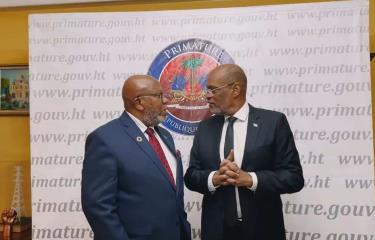 Haiti.- Dennis Francis, the current president of the United Nations General Assembly, embarked on a crucial two-day journey to Haiti this week. His agenda includes engaging with various representatives from governmental, political, and civil society groups. His visit began with a meeting with Haiti's Prime Minister Ariel Henry, as confirmed by both Francis' and the Prime Minister's offices.
During his visit, Francis conveyed the international community's support to Haiti and its people, discussing the country's quest for security, democratic stability, and overall well-being. This sentiment was echoed in his meetings with several key Haitian officials, including Foreign Affairs Minister Jean Victor Généus and interim Minister of Justice, Emmelie Prophète. Topics of discussion encompassed Haiti's security, political landscape, and the challenges in reinstating a reliable judicial system.
Francis' trip to Haiti is notably timed following the Kenyan parliament's decision to deploy 1,000 police officers to assist in managing the increasing gang violence in Haiti. The UN General Assembly President's visit symbolizes a gesture of solidarity and a commitment to addressing the multifaceted crises facing the nation.