WTJO presents Pasaporte Abierto intl. award tonight, Dominican Today competes in two categories
Juanjo Herranz, Anita González Sigler, Adrian R. Morales, Eric Barrantes and Chuy Coronado at the Pasaporte Abierto 2022 Gala, held in San Luis Potosí, Mexico. (Photo: WTJO / Municipality of San Luis Potosí)
Santo Domingo.- Tonight, Monday, September 4, the World Tourism Journalism Organization (WTJO) will present the International Tourism Journalism Award, Pasaporte Abierto 2023 (Open Passport), in Chiriquí, Panama, and among the finalists is online newspaper Dominican Today.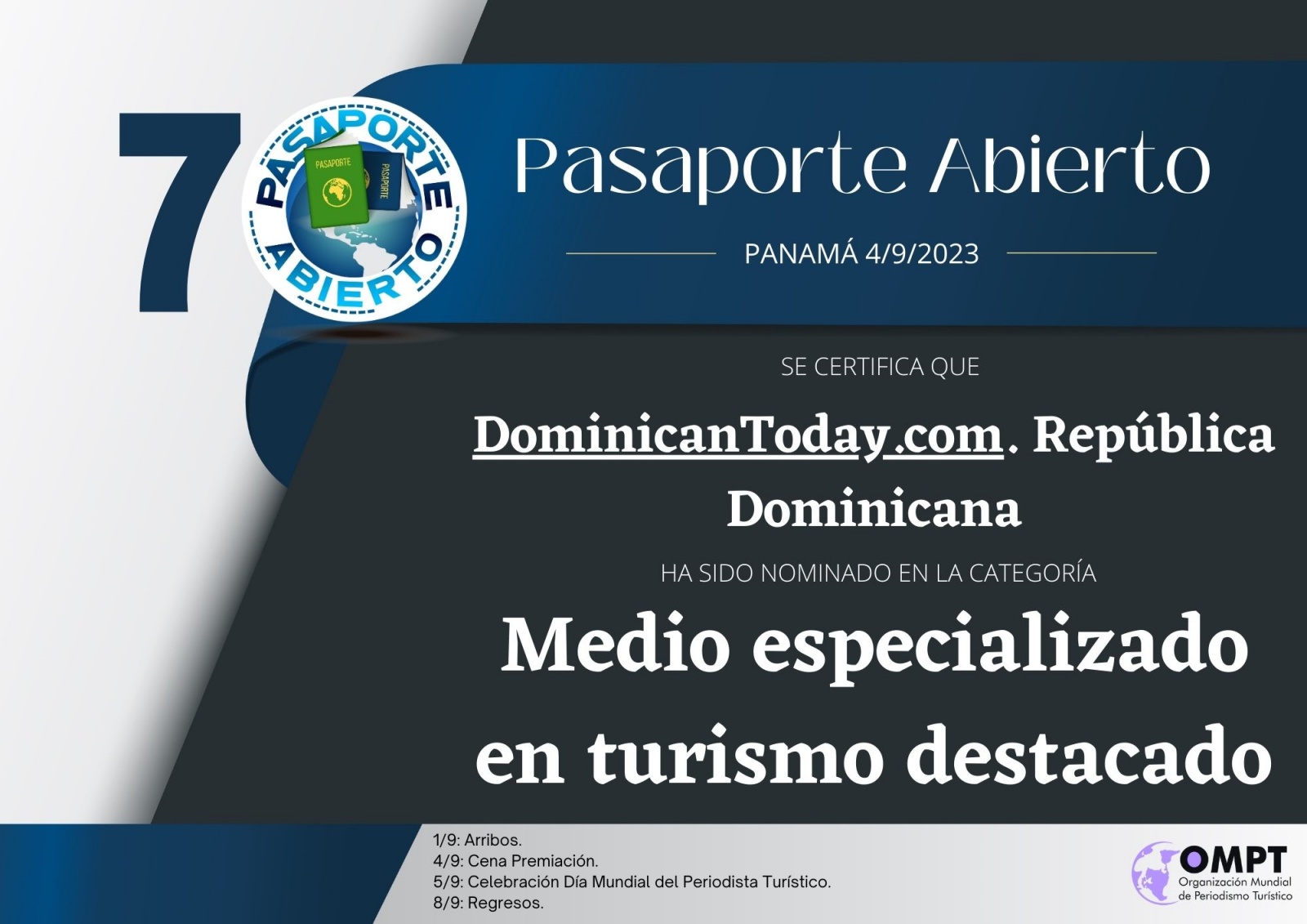 The news outlet, the first of its kind in the Dominican Republic to be published in English and uninterruptedly, achieved two nominations: one in the category Specialized tourism media (for its tourism section, one of the most visited since its launching in 2005,) and in Investigative journalism, for the article "Specialized tourism for the rich variety of the Dominican Republic's flora," written by Dominican-Cuban journalist and head of the tourism section, Adrian R. Morales González.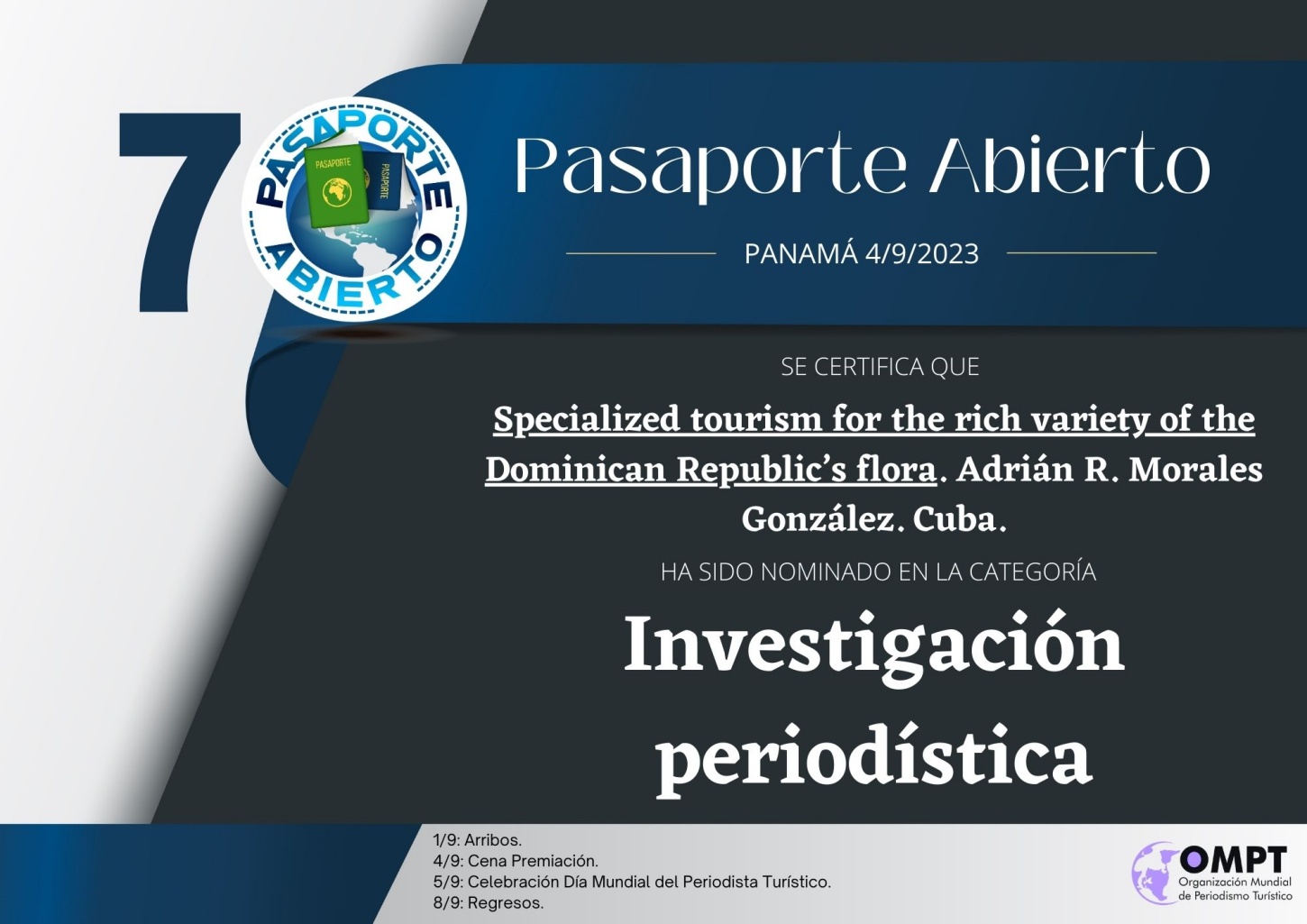 The ceremony can be followed live on YouTube through the link: https://youtube.com/@justotvpanama?si=P4jtmYdWsotahB7a
This is the complete list of the 2023 Pasaporte Abierto nominees, published by the WTJO official website, periodismoturistico.org:
Publicaciones:
Relevancia social.
Reconocimiento de los otros.
Originalidad.
Investigación periodística.
Las mas bellas capillas cordobesas, sus secretos y leyendas. Mariana Otero y Patricia Molaioli. Argentina
Impuesto sobre hospedaje, entre la sospecha y la desconfianza. Istar Meza. México
Tanzania quiere turistas, pero ¿está preparada?Lucía Foraster Garriga, España.
El lujo de viajar (3 entregas). Katheryn Luna, República Dominicana

Experiencias:
Medio especializado en turismo destacado.
www.saborysaber.cl. Chile.
Viva Misiones. Argentina.
Turismo sin límites. Colombia.
Programa de TV Viaje Por Aí. Brasil.
DominicanToday.com. República Dominicana.
www.ilovemexico.travel. México
Suplemento Turismo Diario El Sol de San Luis. San Luis Potosí. México.
Evento del año.
Date 2023. República Dominicana.
Desfile de las mil polleras. Panamá.
Mejor propuesta turística.
Destino turístico responsable.
Miches, República Dominicana.
Sosua, República Dominicana.
Monte Verde, Minas Gerais, Brasil.
Pirenópolis, Goiás, Brasil.
Cap Cana, República Dominicana.

Personas:
Emprendedores turísticos comprometidos.
Felipe Augusto. Prefeito Sao Sebastiao, Brasil.
Taurino Galvan de Rincon Huasteco. San Luis Potosí, México.
Luciana Balbino. Areia, Paraíba, Brasil.
José Rodrigues. Acre, Brasil.
Trabajo en equipo.
Cayo Levantado Resort. República Dominicana.
Temptation Hotel. República Dominicana.
Katmandú. República Dominicana.
Secretaria de Turismo do Maranhão. Brasil.
Consorcio Energético Punta Cana – Macao, S.A (CEPM). República Dominicana.
La mano del mono. México.
Organismo colaborador.
Asonahores. República Dominicana.
Arajet. República Dominicana.
Asociación de Marketing Turístico. Argentina.
Clúster Santiago Destino Turístico. República Dominicana.
A la trayectoria.
Vanesa Dallazuana. Argentina.
Paola Andrea Fernandez Chamaca. Chile.
Guillermo Lozano. Colombia.
María Ulivi. Argentina.
Hernán Couste. Argentina.
Natalie Vlasenko. Rusia.