In six months, traffic accidents claimed 888 lives and injured 9,608 people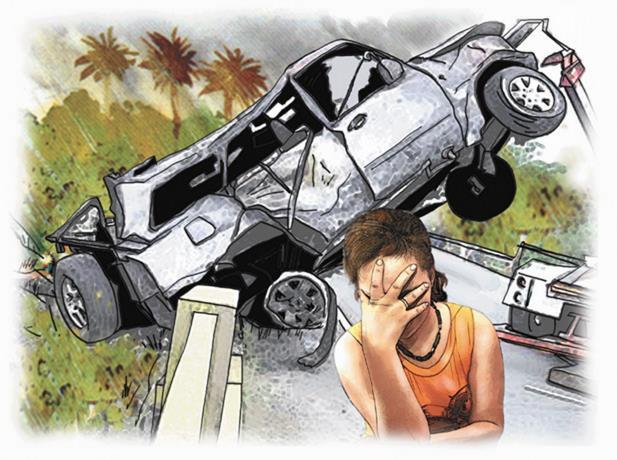 Santo Domingo, DR.
On-site deaths due to traffic accidents represent 79.56% of the accidental deaths reported in the country and registered by the Citizen Security Observatory in the first six months of 2022.
The most recent statistics available to the Citizen Security Data Analysis Center (CADSECI) show that in the period January-June 2022, 1,116 accidental deaths were recorded. Of these, some 888 were on-site deaths due to traffic accidents.
In 2019, the number of traffic fatalities nationwide reported was 3,204. This road accident rate and its victims generate an economic cost for the State, which in 2016-2020 represented 2.21% of the GDP.
The city of Santo Domingo records 2.6 traffic incidents per hour on average, according to the study "Urban Congestion in Latin America and The Caribbean: Characteristics, Costs and Mitigation," published by the Inter-American Development Bank, demonstrating a high accident rate.
Provinces with more accidents
The ten provinces with the highest number of deaths in situ due to traffic accidents are Santo Domingo, La Altagracia, Santiago, La Vega, San Cristobal, Distrito Nacional, Monseñor Nouel, San Pedro de Macoris, Azua, Duarte.
These provinces register 61% of all cases nationwide between January and June 2022. Santo Domingo has the highest number of cases, with 106 cases, followed by La Altagracia and Santiago, with 67 and 65 cases.
Municipalities
Among the municipalities with the highest number of on-site deaths due to traffic accidents are Higüey, Santo Domingo Oeste, La Vega, Santo Domingo de Guzmán, Santiago, Bonao, Santo Domingo Este, San Francisco de Macorís, Samaná, Baní, San Pedro de Macorís, San Cristóbal, Azua, La Romana, Moca, Villa Altagracia, San Juan, Monte Plata, Santo Domingo Norte, and Barahona.
The automobile was the means of transportation in which 15.5% of these on-site deaths registered in the first six months of 2022 occurred, according to data provided by Cadseci, Digesett, and Inacif.
9,608 injured in six months
In January-June 2022, 9,608 traffic accident injuries were recorded in the Dominican Republic, compared to the same period last year, when 8,882 cases were recorded; this figure represents an increase of 8%.
The provinces with the highest number of injuries are National District (2,146), Santo Domingo (1,655), Santiago (1,165), and La Vega (563). Puerto Plata (496), San Cristóbal (443), San Pedro de Macorís (401), La Altagracia (325), Duarte (295) and Monseñor Nouel (284).
Vehicle inspection
The Dominican Republic has committed to reducing traffic accidents by 30%. However, vehicle inspections must be implemented to prevent deaths and hospitalizations due to road accidents to meet this goal.
It is estimated that with the mandatory implementation of technical vehicle inspection, traffic accidents that occur in the country due to mechanical failures and poor conditions of vehicles circulating in avenues and streets could be reduced by 60%.
The government is promoting a National Strategic Plan for Road Safety to 2030, which includes the public-private partnership initiative for the implementation of the National Vehicle Technical Inspection Program (ITV), which consists of the construction of 30 Vehicle Technical Inspection Centers (CITV) and four mobile units distributed throughout the national territory, according to the territorial analysis of data from the National Registry of Motor Vehicles.