Medina fears no 'greens' but grassroots noose tightens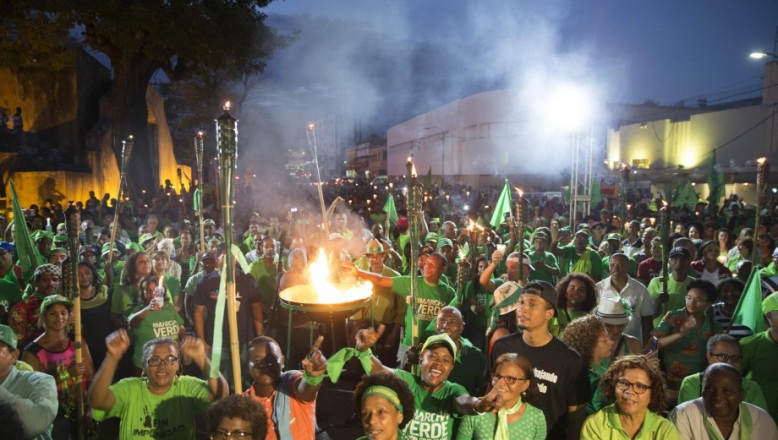 Santo Domingo.- While the government has yet to respond to the demands by the "End of Impunity" marches two months after the first mass protest, the grassroots "Green Movement" continues to grow, as evidenced by Sunday's rally in Santiago, Dominican Republic's second largest city.
Opposition politicians including Guillermo Moreno and Max Puig have president Danilo Medina directly in their crosshairs.
They agree that Odebrecht's corruption scandal has affected Medina to the point that he might not conclude his term in office, which ends in August 2020.
Moreno warned that the scandal merits a criminal investigation, impeachment or Medina's resignation. "The president will not end his presidential term and it is not a question of extremism. I'm not saying that we have to take out the president, rather that there is a deteriorating situation and it will continue to worsen."
"The president can from one moment to another, as did president Juan Manuel Santos (Colombia), do a mea culpa; Now I see it unlikely. But if he doesn't do that, the crisis will continue to widen," said Puig.
Moreno, in an article in Diario Libre on Monday, said the citizens feel a 1,000 times deceived and mocked and that's why he demands Medina's resignation. "Asking for the resignation of Danilo Medina, doesn't mean that he will do so, unless the public mobilization gives way to a situation of in-governance and a deep political crisis."
Moreno said the citizens must generate a political crisis "because the crisis we are facing today is due to the evident impossibility of being able to provide a satisfactory solution to the serious acts of corruption."
Faced with this situation, Medina last week said he doesn't fear "the greens" and in his speech of February 27, said he's the first to identify with the country's end to impunity.
He however, hasn't managed to halt the movement or reduce the attacks against him, and on the contrary the wave of opposition rises.
The Justice Ministry meanwhile, flaunts only on the interrogations of officials, former officials, legislators and past lawmakers linked to the Odebrecht scandal.
A new plea bargaining agreement is still pending with the construction company because the first one was struck down by Instruction judge Jose Alejandro Vargas.