Former official slams the ruling party for role in US envoy row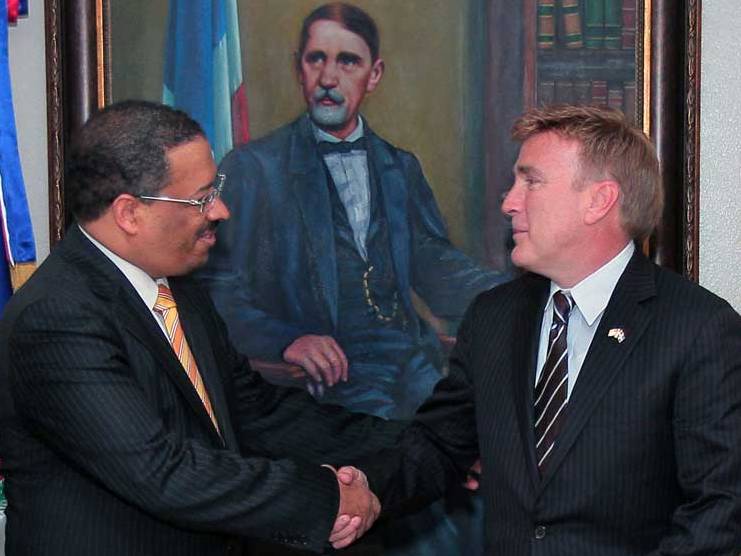 R. Rosario, J. Brewster...smiles hide animosity
Santo Domingo.- Former Central Electoral Board (JCE) president Roberto Rosario on Wed. slammed several ruling party (PLD) senior leaders and revealed a "somewhat sour" discussion with former US ambassador James W. Brewster, which he affirms led to the canceling of his US visa.
"It bothered me, but it did not surprise me, that a month before they took my visa, Reinaldo Pared, Monchy Fadul and Francisco Javier García asked me to attend a meeting with them, where they informed me that the ambassador of the United States, who at that time was James Wally Brewster, had initiated a process against me and my family, who warned that if I didn't vary my position on the Civil Registry, he would resort to all that was necessary against me."
Rosario had staunchly refused to issue Dominican residency IDs to tens of thousands of Haitian nationals and fast-track citizenship to others of Haitian descent, alleging questionable affidavits.
After learning of Brewster's intent, the official said he asked his PLD colleagues what they wanted him to do, to which they replied that they only informed him so that he would know what was going on.
Rosario said that's why when the scandal of his stripped visa exploded in September; he knew that motive was a "sour" discussion with the US envoy over the Haitian immigration issue.
He said he felt a deep indignation for his party's lack of support on the visa scandal. "They were never capable of raising their voice on that issue. I always believed that it was an obligation of the institution and an act of solidarity with me on the part of the Government and the party."
In spite of what happened, Rosario did not rule out requesting a US visa again, but noted that it doesn't affect him at this time.