Dominican Republic Greens rebuke 3 high Court judges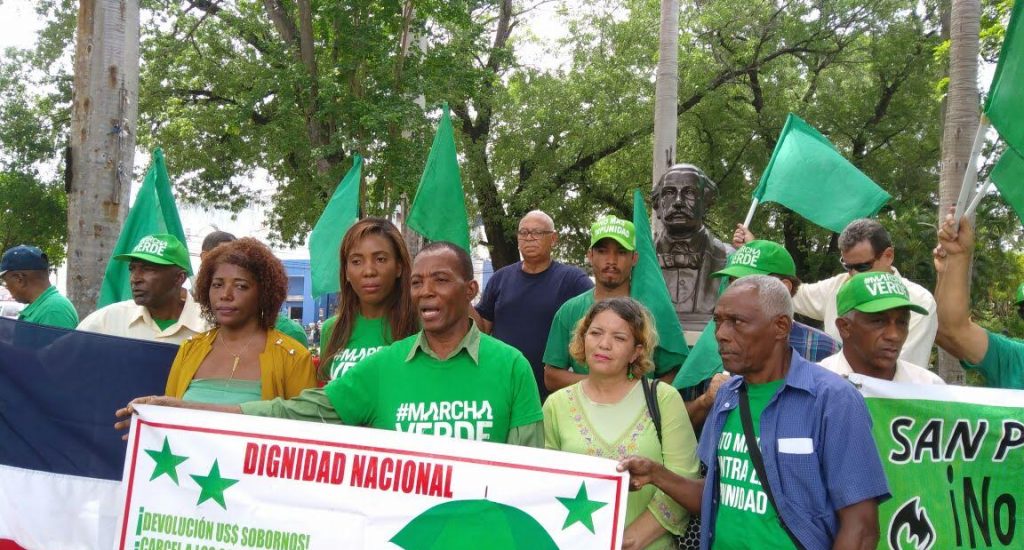 Green March in San Pedro. Photo elnuevodiario.com.do
San Pedro DM Dominican Republic.- The Green March group on Sunday demanded the exclusion from the Odebrecht case the Supreme Court justices, for their alleged links to the interests of the ruling party (PLD).
The grassroots movement, which emerged on a wave against impunity, rejected "any kind of participation by magistrates Hiroito Reyes, Frank Soto and Alejandro Moscoso Segarra," in what it calls "the greatest corruption scandal of the last decades."
"Because they are political judges," said the psychiatrist Jose Dúnker, reading from a document, at the end of a large regional march that toured various districts of San Pedro (east).
The protesters cautioned that at least the three of the high Court's 17 justices could "favor the corrupt PLD with benign sentences."
"The time has come for the Office of the Prosecutor to subpoena and question president Danilo Medina," for the "serious indications of illegal financing" of his last two election campaigns "with funds from the company Odebrecht," the Green March said.
"That no member of the Odebrecht quagmire goes unpunished," they said and also demand the criminal prosecution for the contract's ballooned costs on the Punta Catalina plant and the irregular sale of State Sugar Council (CEA) lands, which led to the murder of two San Pedro radio show hosts.
National march
The Green Movement announced a grand national march for Sunday, July 16, in the National District where they'll demand a wider investigation into the case of Odebrecht's admitted bribes of US$92.0 million, to include Medina and former presidents Hipólito Mejía and Leonel Fernández.