Town surrounded by water gets another aqueduct promise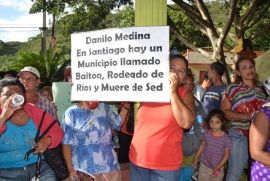 The eternal protess...
Santiago.- After years of protests, marches and visits to the National Palace, Santiago's Water Utility (Coraasan) on Saturday announced a survey of all infrastructure in Baitoa township, prior to the construction of a new aqueduct
The agency said Baitoa's shortage of piped water will be definitively solved, to meet one of the residents' dire needs, which have sparked protests and demands for years.
Coraasan director Silvio Durán made the announcement, and promised Baitoa's representatives to expedite the funds for the aqueduct's construction starting next January.
Baitoa's residents complain that despite being surrounded by rivers, creeks and dams, the town has never had a reliable aqueduct.