Dominican Republic's eyes on power plant's cost 'ballooned' to US$2.1B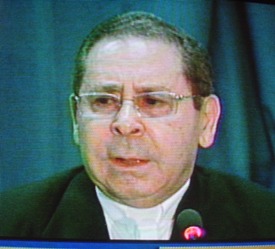 A. Nuñez. File
Santo Domingo.- The country is eager t know all the information on the tender and contracting for the Punta Catalina coal-fueled power plant, who's construction was allegedly ballooned from US$900.0 million, to US$2.1 billion, and is linked to the Odebrecht graft case.
After about five months of investigation by a commission designated by president Danilo Medina and the technical support by the firm FTI Consulting, the report on the tender will be published today.
Commission chair monsignor Agripino Núñez will speak at a press conference set for 11am in of the Economic and Social Council, at the Santo Domingo campus of the Pontifical University PUCMM.
Forced resignation
Núñez, who is also head of the Social Council, was forced to resign on conflict of interest from the board of the company Acero Estrella, which forms part of the conglomerate that builds the power plant.