Govt. sits on a time bomb as trash row festers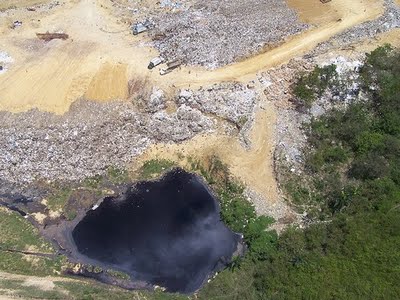 Santo Domingo.- The garbage trucks that transport Greater Santo Domingo's trash to the Duquesa dumpsite are entering the gate as usual, but once inside are forced to wait long hours to offload.
Adding to the delays yesterday was the mud spread after Saturday's rains, further stoking the crisis that led the government to declare Duquesa under a state of emergency.
Drivers and technicians at the dumpsite told local media that just one bulldozer operates inside the gates, and complain of waiting as long as two-and-a-half hours once they weigh the trash prior to entering the landfill.
National District City Council supervisor Leonardo Cordero said the delays at Duquesa is a strategy by the contractor La Jun Corp. to provoke a crisis, while his colleague Roberto Montero, from Santo Domingo Este, calls the situation "unbearable" and doesn't know why the authorities don't take over the landfill.
"La Jun does whatever it wants" since the end of last year when Montero says the supervisors from Greater Santo Domingo's four municipalities were removed from the weighing area.