14th accused in Odebrecht case behind bars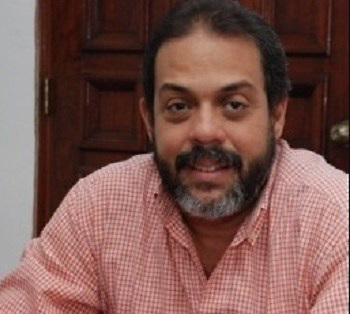 Bernardo Castellanos de Moya (image from noticiassin.com)
Santo Domingo.- Police agents accompanied by public prosecutors arrested Bernardo Castellanos de Moya, the 14th person accused of involvement in the Odebrecht bribe case, after his Wednesday night arrival on a flight from Panama. After being held by the Special Corps for Airport Security (Cesac) for a short period he was transferred to the National District Prosecutor's Office in Ciudad Nueva.
Castellanos de Moya arrived at Las Americas International Airport at 11:00 p.m. After being detained by Cesac, he was taken out of the terminal through a back door. He was taken at the Prosecutor's office surrounded by police agents and prosecutors. He was described as looking pale and tired. He did not speak, despite being asked questions by reporters covering the event.
"This is an unjust action by the PLD government," said defense lawyer Marino Elsevyf Pineda, in a reference to Castellanos de Moya's detention, saying it was carried out without a judicial warrant.
He said that they would be appealing this "unprecedented" measure on Thursday.
Castellanos will appear before Supreme Court (SCJ) judge Francisco Ortega Polanco, who will inform him of the coercion measures. The hearing is scheduled for 10:00 am at the high court building in Centro de Los Héroes.
The other thirteen accused in the corruption case are Temístocles Montás, Víctor Díaz Rúa, Conrado Pittaluga, Andrés Bautista, former deputy Ruddy González, César Sánchez, Máximo De Óleo, Radhamés Segura, Roberto Rodríguez Hernández, Julio César Valentín, Tommy Alberto Galán and Alfredo Pacheco Osoria.
Bernardo Castellanos de Moya was the director of hydro-electric projects for the Dominican Hydroelectric company from 2000 to 2004 and is accused of receiving money from businessman and lobbyist Ángel Rondón in exchange for his support for the proposed construction of the Pinalito hydroelectric project by the Brazilian construction giant in Constanza.
His defense is that construction of the Pinalito project began after his departure from the CDEEE in August 2004.