Ex-Defense chief indicted on US$3.5M bribe in plane deal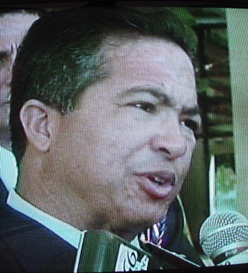 P. R. Peña
Santo Domingo.- The Office of the Prosecutor on Wed. charged former Defense minister Pedro Rafael Peña Antonio of handling the US$3.5 million bribe which Brazilian planemaker Embraer paid to secure the sale of eight Super Tucano aircraft in 2007.
The indictment charges Peña and Air Force Col. Carlos Ramón Piccini of the illicit negotiations with the bribe money when Peña's tenure, which led to an unjustified enrichment from 2006 to 2012.
It said in 2008 Peña's highest monthly salary was RD$75,101.00, or RD$1.9 million in the two years as head of the military, but an audit on him and his wife, based on Banks Superintendence data, revealed that, Peña Antonio handled over  RD$171.6 million and more than US$283,000 from January 1, 2008, to December 2016.
It indictment adds that from public office, Peña's "palpable, exorbitant and, above all, unjustifiably wealth," allowed him to acquire 13 real properties worth RD$50.0 million for himself and relatives.