Wildfire in Valle Nuevo increased its intensity on Saturday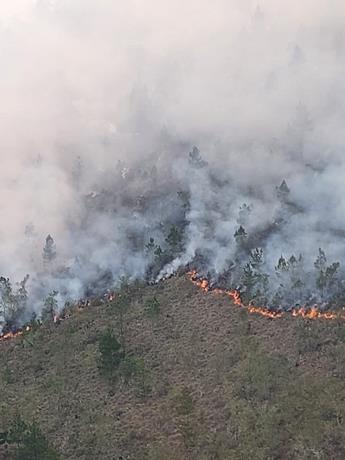 Photograph from the Ministry of Environment shows the fire and smoke generated by the fire.
Constanza, La Vega
The forest fire in Valle Nuevo roared back with greater force throughout Saturday as relief authorities tried to control it and diminish its damage.
The fire was seen up to 10 kilometers away, a situation that had not occurred during the week.
The forest fire has been affecting the protected area since last weekend.
On Friday, the Ministry of Environment reported that the forest fire was under control. However, last night they said that it was "completely enclosed."
Yesterday, the Ministry of Environment explained that weather conditions and the difficult access to the affected area caused the fire to spread.
More than 100 forest firefighters from Santo Domingo, in addition to forest firefighters from La Vega, Constanza, Jarabacoa, San Juan, Guayabal, PNVN park rangers, and foresters from Dajabón are participating in the containment work.
"Helicopters are in the process of preparing to move the Bambi-Bucket from the Constanza and Villa Pajón airport to the fire zone, with the objective of keeping both sides of the road wet," the Ministry reported Saturday afternoon.
Press release:
The Ministry of Environment said in a press release last night that due to the firebreak lines drawn by forest firefighters, the forest fire that has been affecting Valle Nuevo National Park since last Sunday is expected to be neutralized in the next few hours.
"A trail was made from southwest of the Pajón Blanco community, 180 degrees bordering the fire until reaching the road where the last two backfires are taking place," explained Gerónimo Abreu, in charge of the National Fire Management and Management Program, quoted by the referred communiqué.
Abreu added that another of the actions to mitigate the fire was the intervention of a D6 type grader and two bulldozers to make a path. "This Sunday, two helicopters with a Bambi bucket system will be dousing the area," he added.
The institution called for a press conference tomorrow, Monday, at 11:00 a.m. at its facilities to discuss the issue.
The Ministry said that fires in the country are more frequent on the southern slopes of the Central Cordillera, in the Sierra de Bahoruco, Sierra de Neiba, in Los Haitises, and in the area corresponding to San José de las Matas, Santiago Rodríguez, Dajabón, and Restauración.