Experts hold a Forum to discuss COVID-19 in the Dominican Republic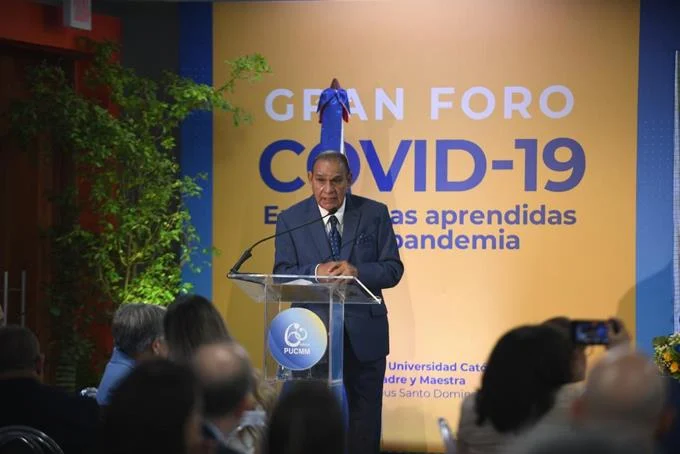 This Friday the "COVID-19 Forum, lessons learned in the pandemic" began, which aims to generate a proactive national reflection on the management carried out by the country. In Event Hall A of the Pontificia Universidad Católica Madre y Maestras (Pucmm), the venue of the event, its rector, Presbítero Secilio Espinal, highlighted prior to the invocation the role played by higher education institutions, schools, and colleges in a moment of "uncertainty", as the one experienced in the Covid-19 pandemic. "Higher Education institutions saw the need to design policies and procedures, as well as organize the different environments for the development of academic, administrative, research, and extension activities with the highest possible quality, preserving physical and emotional health of those involved," Espinal said.
Secilio Espinal added that a great innovation in the educational field was the implementation of the Flipped Classroom teaching-learning Methodology, aimed at guaranteeing a competency-based approach and meaningful learning, ensuring that the student uses time outside the classroom to learn theory and concepts independently, and time within class sessions to apply, analyze, evaluate, and create knowledge. He also called for a minute of silence for all those who have died from the virus. Immediately afterward, the director of the newspaper Listín Diario, Miguel Franjul, gave some introductory words for reflection in which he reaffirmed the commitment assumed by the authorities and citizens of the nation at that moment of crisis, taking the case of the same medium.
"The Listín Diario sighted what could come here and since February 5 it has focused on this threat. In this forum, it is necessary for the population to know how we accepted it, how we reacted, to what extent we were resilient… which gave rise to the idea of holding this forum last December," said Franjul. Franjul took advantage of the moment of his address to thank the Minister of Public Health, Dr. Daniel Rivera, for making an appointment and collaborating so that many health specialists and experts could come to explain his ideas; in addition, to the scientists, academics, and authorities who decided to participate. He also paid tribute to the doctors and nurses for their hard work.
Then Dr. Daniel Rivera, in his opening remarks, stated that the Dominican Republic has been a benchmark for management in all areas of the COVID-19 pandemic for other countries, a feat that has even been recognized internationally. At least five exhibitors and 11 panelists will present the experiences and actions adopted by the country in the face of the pandemic. The first speakers will be Dr. Mario Lama and Chanel Rosa, director, and deputy director of the National Health Service (SNS), respectively, under the moderation of Eddy Pérez Then, director of the Research Center and presidential adviser for COVID-19.