From baseball to business and back, on the road to Sosúa
Renn Loren
Picking up from where we last left off, Baver's long-anticipated yet short-lived professional baseball career left him with many questions regarding what the next steps in his young life and professional career would be.  
Looking back to February 1986, Baver vividly recalls the day of his release from the A's. Sitting dejectedly on a locker room bench in the clubhouse and staring at his soon to be emptied locker, he recalls a brief conversation with one of the other spring training players who suffered the same fate. This young man, a catcher and possessing only high school education, was headed back to Mississippi to pump gas as a station attendant. In the absence of post-secondary degree work or advanced university certification whatsoever, this fellow big league "prospect" was soon headed back home to a blue-collar life of hourly wages. Both of our boyhood dreams had died.
This was one conversation of many with former ballplayers over the years, which emboldened Baver to consistently advocate for education and its long term vocational merits. Always having a solid back up plan to baseball is an overriding sentiment he carries over until today, including his current work with Sosua's "The Pitch" (see the previous article) where, here in the Dominican Republic, this point of applicability could not be more valid.
It was at that moment of "release," literally that Hugh realized how important attending college, earning a bachelor's degree, and working towards his master's degree at Michigan State indeed was. Needing employment to support himself and new daughter Rachel, beginning in March 1986, Hugh entered the non-sports world job market as a sales trainee for a large corporation, Earle M. Jorgensen Steel Company, based in downtown Los Angeles. 
The Los Angeles experience was Hugh's first taste of working in corporate America dressing in a white shirt and tie and enduring the daily grind of a long commute back and forth from downtown Los Angeles to Anaheim, a Southern suburb of LA. 
Interestingly, that same Autumn of 1986, baseball would once again enter back into Baver's life as a significant determining factor in his destiny. In October 1986, the American League Championship Series featured an epic battle between the Anaheim Angels vs. the Boston Red Sox. Being both a long-standing Red Sox fan yet also living in Anaheim, Hugh's interest in this ALC series was particularly strong.
At a critical juncture in Game 5 of a 7 Game series, with only 1 out to go and with the Red Sox being down 3 games to 1, Baver received an unexpected phone call from his cousin in New England. His cousin, who worked in the recreational land development industry in New Hampshire, challenged him to an intriguing bet. The wager was that if the Red Sox could come back in that game and ultimately win that series, Hugh would move from California to New Hampshire to work for him as a salesman in his land development business. 
Not thinking this was a likely scenario, Baver eagerly agreed to the terms of the bet. However, as fate would have it, the Red Sox did, in fact, come back and win that 5th game – mainly due in part to the late-inning heroics of Dave Henderson who hit a home run giving the Red Sox the lead in an ALCS game they eventually won in extra innings. So Baver moved East to New Hampshire. 
There he worked for 2 years touring prospective customers through the deep woods of the breathtaking White Mountains of Northern New Hampshire. He was very successful at this business and was named 'Salesman of the Year' at the company, which jump-started his career as a salesman in the real estate industry.
With the onset of the Gulf War and with the massive recession in the late 1980s, real estate sales and property values plummeted, and Baver was forced again to re-evaluate his professional future. Enjoying his success in the land development business, Baver, chose to move his young family, with additional new daughter, Leah, to Fort Myers, Florida, rather than switching industries. Fort Myers was a very active real estate market at the time and coincidentally was also the winter Spring Training home of the Boston Red Sox. 
Back in 1982, Baver was invited by then future Red Sox Major League skipper Joe Morgan to try out with the Red Sox in Winterhaven, Florida, their previous Spring Training home. Although his tryout was unsuccessful, he did experience the lifetime thrill of meeting Hall of Fame and Red Sox legend Ted Williams there, one of his boyhood idols. 
Meeting former Red Sox Manager Joe Morgan at a 2010 Boston Baseball Awards Ceremony, 35 years later, after his Winterhaven, FL Red Sox tryout, which Morgan facilitated. 
Taking a sales position in the early 1990s working for a real estate developer of a Master Planned Community in Fort Myers (Southwest Florida) soon, as a continuing consequence of the Gulf War, the real estate industry severely slumped there as well. Again, Baver was faced with the difficult decision of which professional direction he would take.  
Through a former real estate contact friend In New Hampshire who had already transitioned to the information technology world, Baver accepted an entry-level sales position working in his friend's IT company selling computer hardware in the early 1990s. So, once again, he packed his bags and moved back to New England. 
Based on his success as a computer salesman predominantly selling one brand of computer, he captured the attention of NEC Corporation, a large computer manufacturer based in Japan who had a corporate HQ based out of nearby Boxborough, MA. In the mid-1990s, NEC offered him a position as an outside sales representative covering the Northern New England area of Maine, New Hampshire, & Vermont. 
For the next 15 years, Hugh was a top sales performer with some of the largest and most reputable technology companies in the industry, progressing in position responsibility from NEC to Compaq Computer, Hewlett-Packard next, and then onto IBM. In 2009, IBM sponsored Baver's inclusion in a unique program at Harvard Business School, where he earned an advanced certificate in IT & Finance. 
Never straying too far from the game of baseball he loves so much, Baver kept up his playing and pitching skills by never missing a summer season of playing hardball in one summer league or the other.  
In January of 2010, 24 years after being released by the A's, he signed up for the Boston Red Sox Fantasy Camp back in Ft. Myers, Florida. It was there where, in addition to being named the camp's Cy Young Award Winner for being the best pitcher, he also had the unbelievable opportunity of meeting face-to-face, Dave Henderson, the man who had so prominently changed the course of his life.
It was also at this camp that Baver was given the cell phone number of Dominican Baseball patriarch and former MLB player Jesus Alou, Director of the Red Sox Academy (or Academia Medias Rojas) who he would meet for the first time in March of 2010:
Video link to 2010 Cy Young Award Ceremony:
https://www.youtube.com/watch?v=mrMGeevpEeA
Pitching at Fenway Park in Fantasy Camp Reunion game in the summer of 2010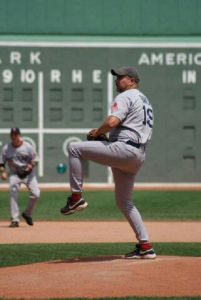 In 2010 with 2 World Series trophies and wearing World Series rings: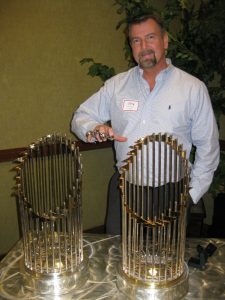 In the next installment of this series, we will see how the 2013 World Baseball Classic Historic Base Donation led to Baver's formation of a 2015 Dominican Amateur Baseball Tournament in Providence, RI which honored Pedro Martinez's Hall of Fame induction…