Turkey, an attractive destination for health tourism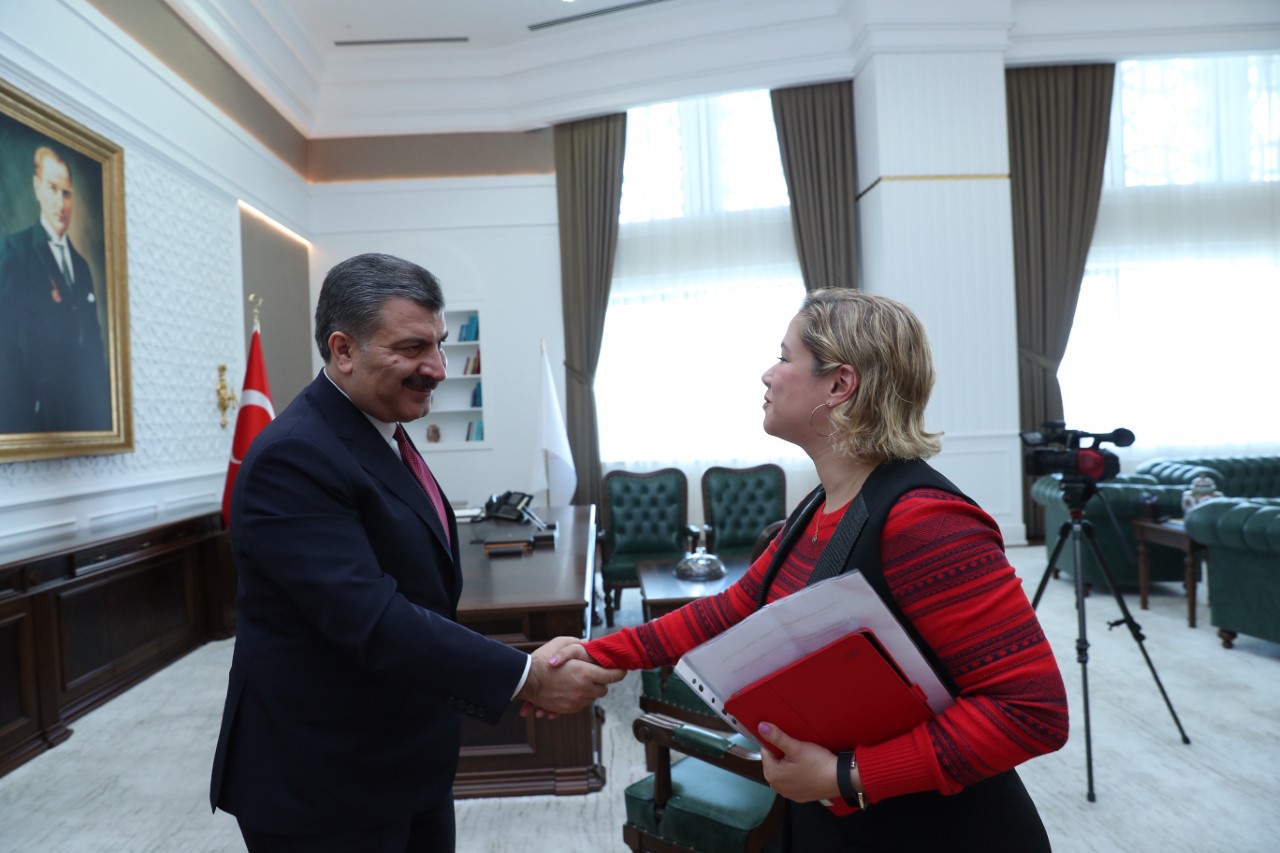 Dr. Fahrettin Koca, Dashira Martinez, ,
Interview Minister of Health of Turkey Dr. Fahrettin Koca
By Dashira Martinez, MBA, CPC
In recent years, Turkey has become a world leader in health; Its newly opened a city hospital Bilkent Sehir, which is the biggest in Europe and the third in the world. In my recent visit to this center, I had the opportunity to talk with Dr. Fahrettin Koca, current Minister of Health of the Republic of Turkey about the health system in Turkey and the growing of the medical tourism.
I would like to start with your career in the health sector. Can you describe the process of your appointment as a Minister?
Throughout my 30-year career in medicine, I have always made efforts to move Turkey forward in the field of health. I personally founded and chaired some health institutions. I had the opportunity to found a foundation university to contribute to health and education services of Turkey, and serve the health transformation targets of my country. As a continuation of this process, I have undertaken the responsibility to manage the health services of Turkey at discretion of the President of the Republic of Turkey.
What are the strengths of the health system in Turkey?
Turkey has become an important actor in health, which is also appreciated worldwide. Our health transformation reforms have become a model at global level. We have caught the developed country standards with much less expenditures compared with those made by the strong economies.
Coverage and sustainability are two important criteria for success of the health systems. These two issues constitute an important challenge for health systems of the developed countries in particular, while they actually are our strengths. We provide the most comprehensive health services in the most quality way and at the most cost-effective amounts. I need to underline that we owe this to the political power that have always prioritized health policies for the last 17 years.
In addition to the other specialties, many tourists come to Turkey for hair transplantation. What is the reason of this?
Turkey is a global center of attraction for lots of specialties ranging from hair transplantation to cosmetic surgery, from organ and tissue transplantation to dentistry and cardiovascular surgery, with qualified doctors having worldwide experiences and at cost-effective prices. Turkey has many advantages for health tourism. There is 1.5 billion population living in 57 countries at four-hour flight time. We have all new technology and well-educated healthcare professionals. The number of tourists who come to Turkey for medical services in the last years has reached one million, increasing by ten times. The number of visitors will increase even more as our potential is further promoted and known by the people.
In many parts of the world, there are great differences between state hospitals and private hospitals. How is the quality of state hospitals in Turkey?
We are transforming the state hospitals into the most qualified health facilities of the world. We are building the city hospitals as the centers of excellences which are able to compete not only with the private hospitals of our country but also with the most modern hospitals of the world. City hospitals serve as training, research and practice centers for universities. These facilities will be centers of attraction combining the most advanced technology with the most suitable spaces, as well as the most qualified human resources.
Can you provide information about maternal mortality rate in Turkey?
We are working sensitively on decreasing maternal mortality, and we have made considerable progress in this field. In the last 15 years, the maternal mortality rate has decreased to 14.6 from 64 out of a hundred thousand live births. We are constantly developing our procedures for effective pregnancy follow-ups through such methods as baby-friendly hospitals and maternal guest houses. We target to reduce the maternal mortality rate to 9 out of a hundred thousand live births in the coming 5 years
What do you think about the academic training of medical doctors at the Turkish universities?
Turkey is quite assertive about the medicine training. In recent years, we have made big steps to develop high-quality and effective training programs and have all medical schools reached the international standards and accreditation, making improvements at global level. We trust in the quality of medicine training in Turkey, and we target to make Turkey one of the international health training centers.
Can you provide information about the operation of Bilkent City Hospital?
As public-private relations are more intense at Bilkent City Hospital than the ordinary state hospitals, it is required to introduce a new management approach. Within this framework, we collected many hospital functions such as laboratory, imaging, operating rooms, etc. at a separate common area in order to benefit from the scale economy and ensure service integrity. The Hospital is managed by the "Coordinator Head Physicians" appointed by the Ministry of Health. This Manager will ensure equitable use of the common areas, finance management and coordination among different hospitals. Furthermore, there are head physicians and administration teams for each hospital, for performing internal management and guaranteeing service quality.
There are also many other functions such as laboratory, medical scanning, catering, cleaning, security, logistic services, maintenance and repair services undertaken by the contracting form and subcontractors. There is a management team appointed by the contracting firm to ensure provision of such services in harmony with the hospital management team. We are trying to build a "Group Hospital Management Understanding" at the public with the opening of city hospitals.
What is the level of Turkey in medical technology?
We have important targets in production of medical technology. We are a center of attraction for medicine and medical industry investments. We have launched national and local production policies to reduce our external dependence in medical technology.
How is the family medicine system functioning in Turkey?
Primary healthcare services are of critical importance for a healthy community and strong health system. Family medicine system was a part of the health transformation program in Turkey. Family medicine units and community health centers are the backbone of our health system to protect and improve the health of our people. Our family physicians act responsibly to protect all our citizens from health risks from birth to death. In addition to immunization and maternal-infant health services, they also have an effective role in management of chronic diseases. The rate of recourse to family physicians is around 40%, we target to increase to 60%.
What are the other projects of the Ministry of Health for the coming period?
By 2023, we will complete all city hospital projects which will serve as global health centers. In terms of health tourism, we target to host 10 million health tourists in Turkey in 2023. We will also intensify our efforts for localization of medicines and medical supplies.
About the author
Dashira Martínez, MBA, CPC health journalist with more than 20 years of experience. Producer of TV program Living Healthy on the local channel CDN. Billing and Coding Specialist and Certified Professional Coder AAPC. Medical Tourism Marketing Professional and Healthcare Management. Speaks five language, including Turkish. @dashiramartinez on Social Media. E-mail [email protected]l.com