Taíno Bay received three cruise ships at the same time; for the first time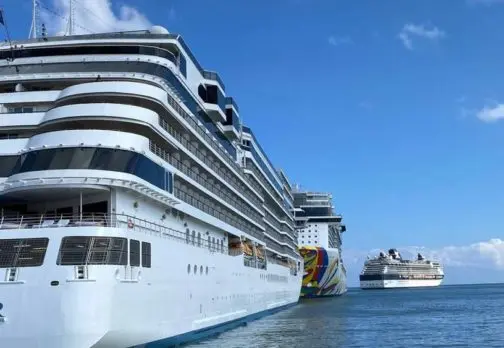 One of the docked ships.
Three cruise ships docked simultaneously for the first time since the Taino Bay tourist terminal began operations in the bay of this municipality.
The cruise ships Seven Seas Splendor, NCL Encore, and the Celebrity Constellation disembarked 13,362 passengers, activating the productive apparatus of the Bride of the Atlantic.
In this way, Puerto Plata continues positioning itself as the best cruise destination in the Caribbean, according to the regional director of the Ministry of Tourism, Atahualpa Paulino.
The official highlighted the boom in cruise tourism registered in Puerto Plata, which translates into collective economic welfare in this destination on the North Coast.
He said that these three cruise ships anchored in the port of Taino Bay, the arrival of the Carnival Spirit liner at the Amber Cove terminal, located in the municipal district of Maimon, Puerto Plata.
Paulino did not reveal the number of passengers this last cruise ship brought nor the number of crew members that arrived in Puerto Plata.
This March, 67 cruise ships are scheduled to dock at the two terminals of the Bride of the Atlantic.