Bandex promotes financial facilities with the Dominican-German Chamber of Tourism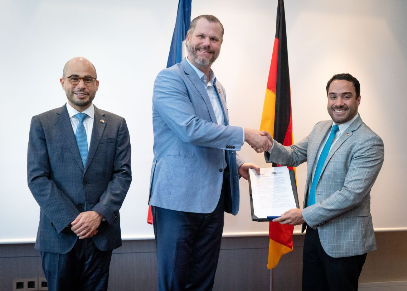 Santo Domingo.- The Development and Export Bank (Bandex) has entered into a cooperation agreement with the Dominican-German Chamber of Commerce, Industry, and Tourism (CCDA) to facilitate financial assistance to CCDA members, with a focus on clients from the commercial, energy, and tourism sectors.
The primary goal of this agreement, signed by Juan Mustafá, Bandex's general manager, and Karsten Paul Windeler, CCDA's president, is to enhance the relations between Germany and the Dominican Republic. Under this partnership, Bandex will collaborate with CCDA on the implementation of bilateral projects.
As part of their cooperative efforts, CCDA will identify potential clients in need of financing within the specified sectors and refer them to Bandex. The bank will then evaluate these clients, providing them with advisory services, technical training support, and financing as needed. Bandex will make its available banking products and services accessible to these referred clients in accordance with applicable laws and regulations.
The agreement specifies that eligible clients referred to Bandex should belong to the commercial, energy, or tourism sectors, or be part of the value chain associated with these sectors. Importantly, this cooperation is not limited to clients offering goods and services exclusively for export from the Dominican Republic to Germany.
Furthermore, Bandex may seek input from CCDA regarding social initiatives related to export development and consider them for the execution of bilateral projects, with the aim of expanding the benefits to their respective memberships and society at large.
CCDA, through its channels, will identify clients in the commercial, energy, and tourism sectors who require financing or financial support and who are connected to these sectors or offer goods or services for potential export from the Dominican Republic to Germany. Once identified, CCDA may choose to facilitate direct contact between the client and Bandex's business area or provide the client's contact information to Bandex for further engagement.
It's important to note that Bandex retains the authority to assess referred clients and may decide whether to accept or reject them based on their evaluations, in accordance with the terms of the agreement.