Air operations between the Dominican Republic and Venezuela rise to 3,000 this year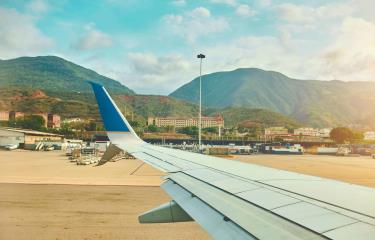 Santo Domingo.- Air travel between the Dominican Republic and Venezuela has surged recently, with over 40 weekly flights from six different airlines catering to emigrants using these routes. Data from the Civil Aviation Board reveals that from January to August this year, there were 2,902 air operations, equivalent to approximately 1,500 round trips during that period, averaging around six flights per day.
In August alone, there were approximately 43 weekly flights and a total of 374 separate arrivals and departures. The dominant carriers on this route are Laser, Sky High Aviation Services Dominicana, SA, Avior Airlines, CA, Rutas Aereas, CA (Rutaca Airlines), Turpial Airlines CA, and Rutas Aereas de Venezuela Rav, SA/Ravsa.
Additionally, Copa Airlines offers flights to the Dominican Republic with stopovers in Panama City, operating up to five flights daily. Prices vary by destination; for instance, a flight from Santo Domingo to Caracas costs around $407, and from Punta Cana to Caracas, it's approximately $689.
Wingo, a Colombian airline, also provides flight options with layovers. In 2022, 74,110 Venezuelans entered the Dominican Republic, while 78,487 left, according to the General Directorate of Migration. The Dominican Republic has become a preferred transit point for Venezuelans heading to the United States due to competitive ticket prices and the limited air travel options directly from Venezuela.
Since 2019, the United States Federal Aviation Administration (FAA) has prohibited direct flights between the United States and Venezuela due to political instability and tensions. As a result, the Dominican Republic offers a cost-effective alternative for travelers aiming for North American destinations. Prices for flights to Santo Domingo can start as low as 13,000 pesos, while flights to neighboring Colombia begin at 18,000 pesos for Bogotá. Flights to Panama, a common transit point for Venezuelans heading north, often exceed 22,700 pesos for a round trip from Caracas or other starting points.